Thailand's tourist attractions and overall vibe vary greatly depending on the town you are visiting. We stayed for a month, splitting our time between Chiang Mai and Patong. These two areas are extreme opposites. One is an inland town popular for expats and budget friendly while the other is a coastal town popular for bachelors and slightly pricier. Depending on your interests, you can find something to do in Thailand. We hope these Thailand travel tips help you plan your next adventure.
Disclaimer: Thailand was our vacation from our vacation. We didn't do many activities as we usually do because we just wanted to relax. Items marked with * we did not do ourselves but were popular with other tourists.
Free things to do in Chiang Mai
3 Kings Monument
This is one of the best known and most recognizable of the many Chiang Mai attractions.  There is a small plaza in front of the statues where people gather at night to play Pokemon Go and eat from the food vendor carts.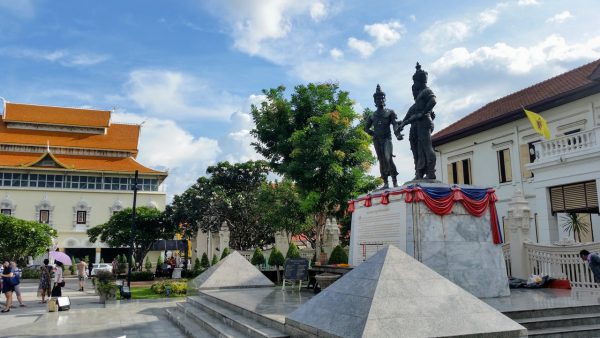 Visit the temples
There are over 300 Buddhist temples in Chiang Mai so you can keep yourself quite busy. We somewhat followed this free walking tour route but if you are short on time then I recommend these temples.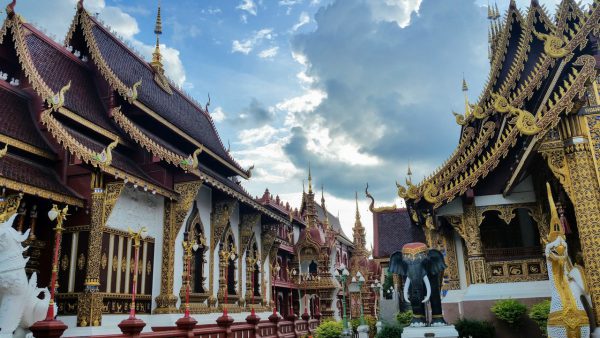 Saturday Night Market
The Saturday Night Market takes places just outside the old city. It's a very spread out market but still manages to get crowded. There are food courts and snack carts throughout the market. If you decide to walk at night you will see rats and roaches. You've been warned!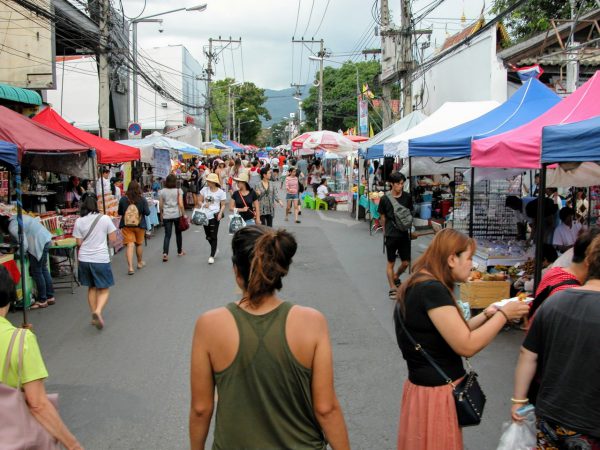 Sunday Night Market
You can find a wide selection of Thai food in the food court set up on a temple's grounds. It's not as crowded as the Saturday market and definitely worth a visit.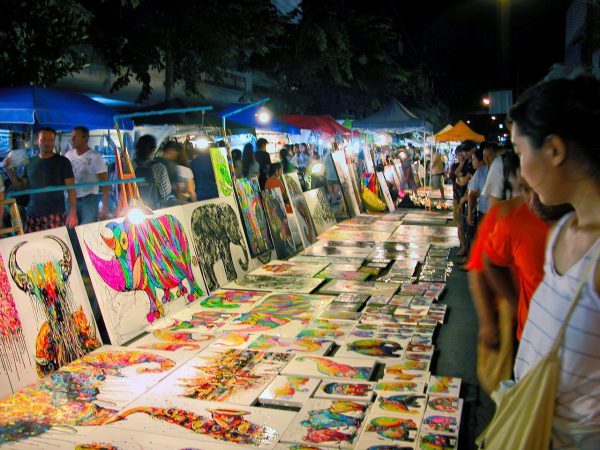 Central Festival Mall
It costs about 80 baht for 2 people in a red taxi truck (carpool taxi) from the old city to the mall each way. It is a large modern mall with an ice rink, arcade, food courts, restaurants and a lot of western clothing stores.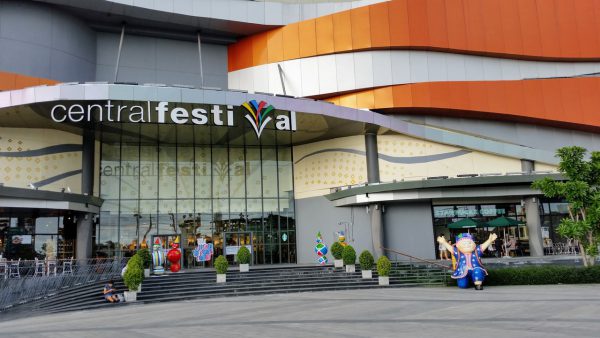 The Night Market
Another market in Chiang Mai that it is open every night between 7pm-12am, although some shops start closing around 11pm. Locals do not eat here as it is a bit pricier.
Tip #1: There may not be pedestrian crosswalks. Use the "hand of power" to tell oncoming cars to stop/slow down so that you may cross. This comic also applies to Thailand!
Tip #2: Knees and shoulders must be covered up before entering any temple. Respect the rules.
Tip #3: Many taxi and tuk tuk drivers are friendly and will suggest activities in hopes that you will hire them for a ride there but don't feel obligated.
Tip #4: Elephant pants are ~100 baht and they all come in 'one size fits all' even though sizes and length vary. Ask to try them on if possible. They are not stretchy so gently bend over in them to make sure you won't rip it during regular wear (trust me…I ripped mine down the butt seam the first day).
Small Fee
Sammy's Organic Farm Cooking Class (Full Day Option)
A full day of instructor lead cooking cost 1,000 baht each person, which includes transportation and cookbook plus ingredients. Sammy is a great instructor with a sense of humor and ready to answer all your questions. He is easy to understand and very friendly. His toilet is said to be the toilet with the most beautiful views in Thailand (you'll understand when you see it).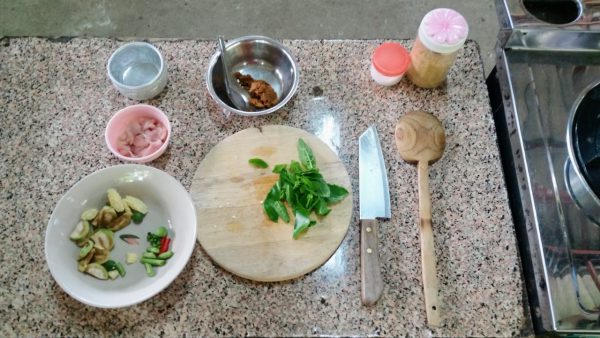 JERA Traditional Massage class
1,000 baht each person gets you transportation, lunch, notebook with diagrams, rental of uniform, as well as hands on experience in small groups. It's fun if you go with your partner because you get to practice on each other, but don't worry if you can't find a partner – you will be partnered up with another single in the group or the instructor will work with you one on one.
Get a massage
Deep Relax: 300 baht for a 1 hour full body massage with free foot scrub ($8.50usd!). The masseuse could feel where I was tense and tailored the massage to my body's needs.
Chana Massage: 350 baht for a 1 hour foot scrub with free wifi. Wear shorts because they will scrub all the way to your knees.
Elephant Nature Park
Spending a bit more to go to Elephant Nature Park ensures that you're money is going to the rehabilitation of elephants in need. At 2500 baht each adult – this one was our splurge in Chiang Mai. We wanted to make sure we visited a sanctuary so that meant no riding them but we got to feed them and bathe them.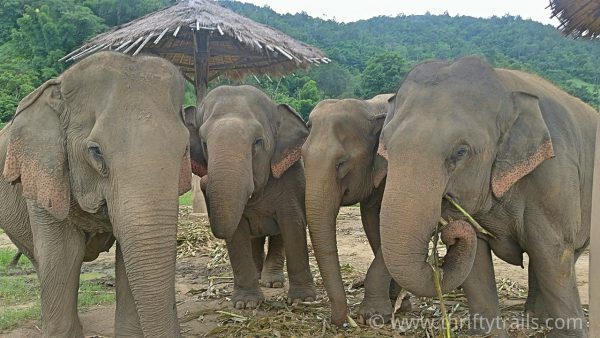 Muay Thai*
Muay Thai is the sport of Thailand which explains the many advertisements and stadiums throughout the country. Thaphae Stadium hosts fights every night. Regular admission is 400 baht and ringside seats are 600 baht.
Ziplining*
Eagle Track Zipline has multiples packages ranging from 1,400 – 2,400 baht. The sooner you book, the cheaper it is.
Flight of the Gibbon is more expensive (regular price is 4,000 baht) but they have the occasional promotion.
Tip #5: The 7-Elevens have A/C so you can escape from the summer heat even if for a moment.
Tip #6: Temples may have bathrooms available but they will charge you a small fee.
Tip #7: If you need to print your boarding pass visit Its Design near the foot bridge by the West wall. Cost is 5 baht for 2 pages.
Tip #8: Some shops request that everyone leave their shoes outside such as massage venues. If you see shoes outside it is safe to assume you should too.
Food
There is a row of street food vendors set up just outside Yupparaj Wittayalai School on Ratvithi Road after school lets out. Food is cheap and delicious so many students grab a bite to eat there.
18 Terrace Guesthouse has a small restaurant with great prices and good food. 100 baht drinks, 49 baht pad thai, 99 baht tom yum.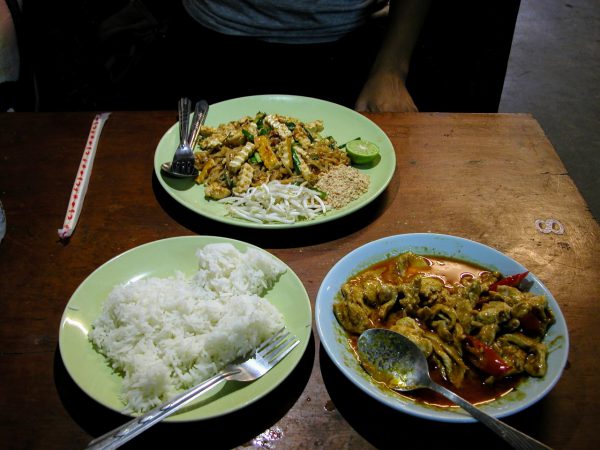 Maya Burger Queen is a pretty good place if you're craving a burger. Pineapple Burger 119 baht, Double Spicy Queen Burger 169 baht, Medium/Large fries 40/60 baht, garlic mayo sauce 10 baht, veggie burgers available.
Khun Kae's Juice & Smoothie Bar with free wifi near Diva 2 Guesthouse. The smoothies are ~40 baht each and they consist mostly of fruit instead of ice which makes it thick and delicious, just the way I like it. You can ask for a customized smoothie.
Food court inside the Central Festival Mall. Try the korean ice cream – so smooth and creamy but they accept cash only. All the other food shops accept a card that you charge up at the front desk. It's a way for the food handlers to avoid touching money.
Dada Kafe has the most delicious and thick smoothies I've ever had. I tried a smoothie every chance I got and this was by far my favorite. I ordered the oatmeal with fruit and Tim ordered the omelette, both were very filling. It's closed on the first of each month and closes at 2:45pm on Sundays.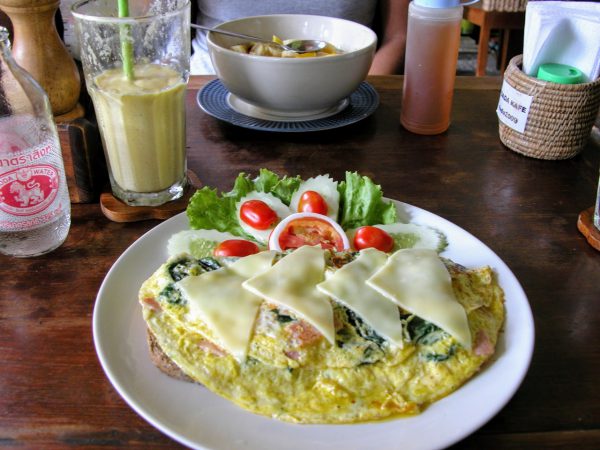 Bam Boo Bee has high reviews online so we gave this vegetarian shop a try. We had high hopes but neither of us were satisfied. My pad thai was much too sour and I couldn't finish it. Their chocolate banana smoothie was pretty good though.
Mrs. Pa's smoothie cart has quite the reputation but unfortunately we didn't have the opportunity to try some. I would still recommend giving it a shot based on many other reviews.
Accommodation
A friend recommended Diva 2 Guesthouse (now named Vida Guesethouse) and we loved it. For about $10/night you get a private room and bathroom (with hot water), daily housekeeping, and towels. We opted for a room with a fan instead of A/C and we survived during their summer. There is no kitchen or fridge but food is so cheap we ate out everyday. You basically keep a tab of everything including activities you book through the front desk and drinks you get from the front desk fridge. Everything is tallied up at the end so that you know exactly how much you need to take out from the ATM in one transaction which minimizes ATM fees. Diva 2 has a nice rooftop lounge where we spent our last night taking in the view of the city and far away mountains.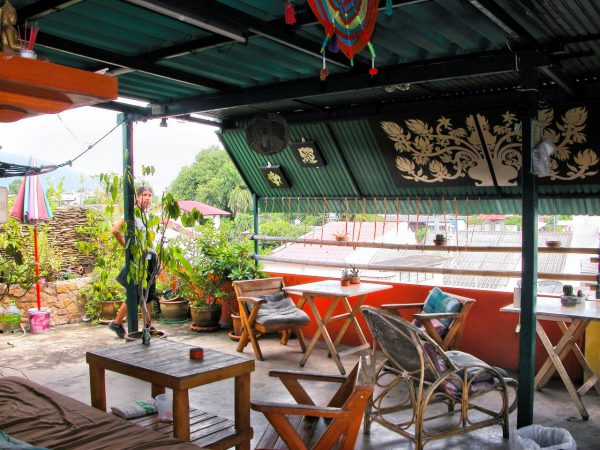 Transportation
The taxi from airport to guesthouse in center of the old town was 160 baht. We approached the taxi counter in the airport, told them our destination and they told us the price. Once we agreed they told us to wait while they called a taxi over for us.
When it was time to head back to the airport our guesthouse was kind enough to schedule for a tuk tuk to pick us up at night. The ride from Diva 2 to airport cost 150 baht.
Be advised that there is security at the door before entering the airport AND before entering the gate area but both were relatively quick.
Free things to do in Patong
Patong Beach
Patong Beach is close to all the main hotels and is free to enter, but you will be bothered multiple times by hawkers because it's located in a high tourist area.
Roam through Bangla Road
The famous strip is filled with bars, nightclubs, live music, and ping pong shows (not the game played with paddles). Do not bring children here after sunset.
Small Fee
Freedom Beach
We paid 200 baht a person to enter the beach because it's on "private property" but it was worth being away from all the hawkers. Bring your own water and lots of sunscreen, we made the mistake of laying out in the sun too long and took several days to recover from burns. There are two entrances that require quite the hike so wear shoes instead of flip-flops.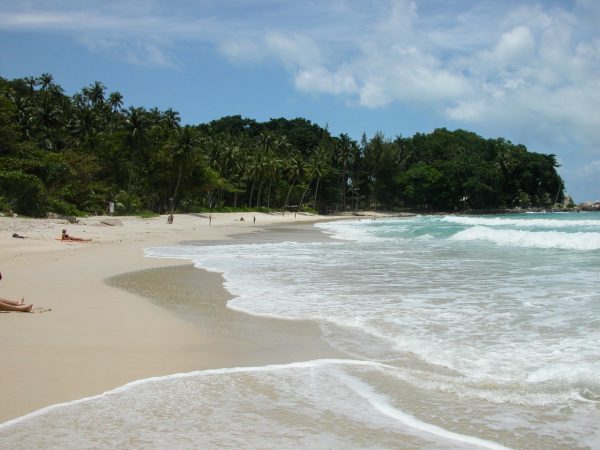 Go to the movies
Inside Jungceylon Shopping Mall is a modern movie theater with new and recent showings in English and Thai. Prices depend on the section and range from 140-180 baht, the cheaper option is just fine. The cashier will select a seat in the higher price range by default but tell them you want the cheaper seats.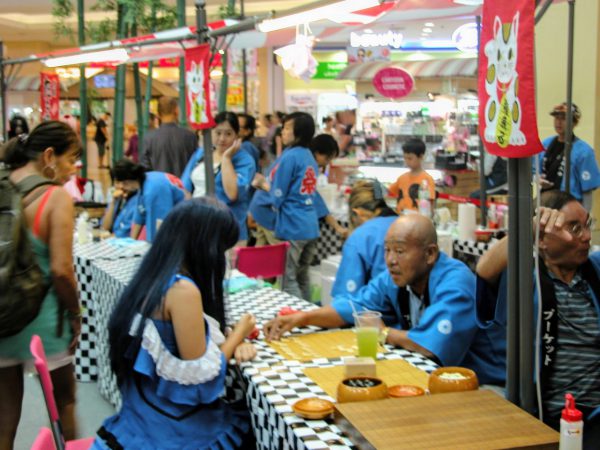 Simon Cabaret Show*
Extravagant performances featuring huge song and dance routines done by transsexuals. May not be suitable for children. The ladies charge to have photos taken with them. Prices range from 500-1000 baht per person depending on what agency you use. Do not buy tickets at the door because you can't haggle and it's more expensive.
Patong Boxing Stadium*
Muay Thai is extremely popular here and you will see trucks with people standing in them yelling to promote it. "You see muay thai, you see Thailand" will be ingrained in your head. Ticket prices are around the 1,200 baht range and usually come with a free t-shirt.
Boat Tour
This was our splurge in Patong. We paid 3,200 baht per person with SeaHawk 8 in 1 VIP tour which included transportation, lunch and dinner. Unfortunately there is no snorkeling included in this tour option. We visited 8 islands and one of our activities included a lotus release in a cave. We booked through Being Tour Agency and the owner, Bee, arranged a complimentary minibus service to the airport for us.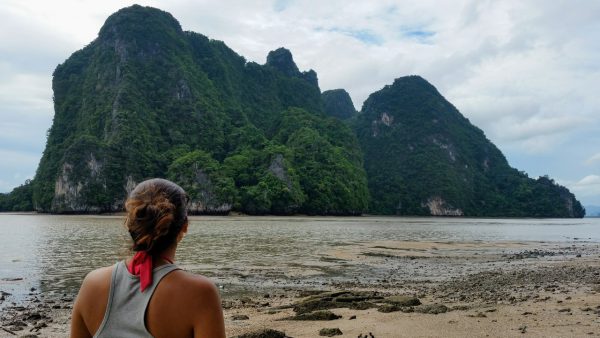 Food
Leo & Mas Pizza is the closest you'll get to real Italian pizza in Thailand. It was pricey but the environment was lovely and away from the hustle and bustle.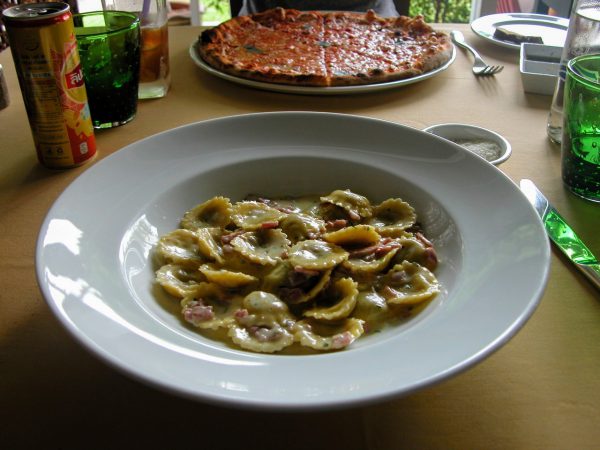 Jungceylon Shopping Mall has a large selection of restaurants outside along with a tourist information center and a Food Bazaar downstairs.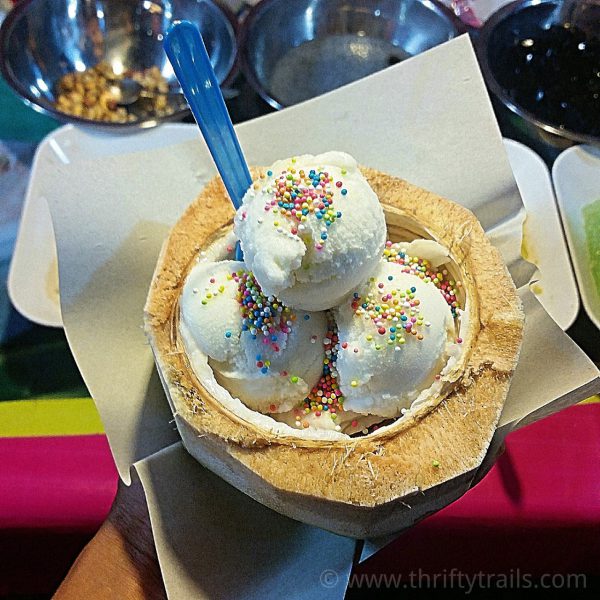 Night Food Market outside Banzaan every night starting at 7pm. Many booths with different types of prepared foods. I recommend the muslim pancake (50 baht), coconut ice cream (60 baht, includes coconut water and free toppings), and mango sticky rice (50 baht) if you have a sweet tooth like me. The smoothies tend to have too much ice (40 baht). We came here almost every other night.
No. 6 Restaurant has good food for good price so lines will form during lunch and dinner time. Arrive at 11:45am the latest for lunch. Pad Thai 80 baht, Pad See Ew 90 baht, bottled water 15 baht.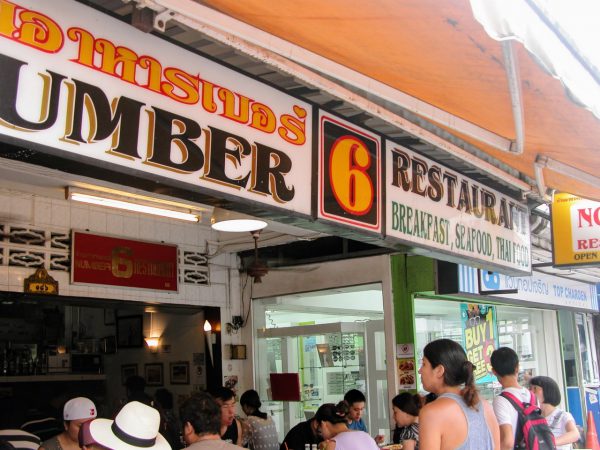 Aspery Hotel's restaurant is overpriced and the food is not good at all. An 8 inch bland pizza was 180 baht. Do not recommend.
Tip #1: Go to Big C Extra Hypermarket inside Jungceylon Shopping Mall and buy groceries to cook back at the studio.
Accommodation
We found Patong Studio Apartments via Airbnb and booked a room through the website. You most likely won't get the exact room in the picture but something with similar features. The location is great – it was far away enough from all the noise but close enough that we could walk everywhere.
They provide free drinking water, free beach towel rental, daily housekeeping, free shampoo and soap, and free printing. The kitchens come equipped with all cooking supplies and utensils, plates, microwave, and a fridge (size may vary). The private bathrooms have hot water and good water pressure. It also came with A/C (great in the summer) and a TV. All for $13 USD a night! We did sleep on top of our sleeping bags because we didn't trust the cleanliness of the bed too much. Overall, I highly recommend it for a good budget friendly accommodation very close to the tourist destination.
Transportation
Taking a minibus from the Airport to Patong is 180 baht per person. There are desks right outside the airport doors where you can buy a ticket. They have fixed prices so you can't really haggle. You wait in line with your receipt in hand until the next minibus arrives.
Taking a taxi from Patong Beach to Freedom beach was 300 baht. You can also take a long tail boat from Patong Beach but you want to gather a group of people to make it cheaper per person.
Tip #2: Sometimes the person advertising taxi services is just the negotiator for the taxi drivers. You tell them your destination and haggle the price down – start by cutting their price in half. Then they will call over a driver and tell him the details. Make sure you clarify with the taxi driver how much you agreed to pay.
Bonus story time. Our taxi driver tried to charge us 400 baht after we were already on our way but we said no because we had already settled at 300 baht. The driver kept insisting so we told him to stop the car immediately because we refused pay 400 baht – he backed down and finally accepted 300 baht but kept mumbling the whole trip. The taxi driver for the rise back to our studio asked for 300 baht and it was consistent with the posted sign near the taxi area.
[google_maps id="2224″]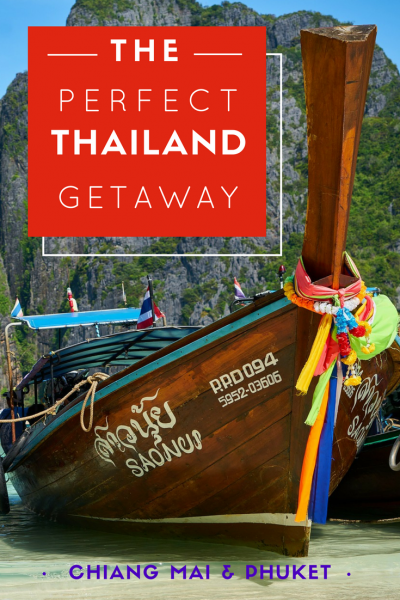 Have you ever been to Thailand? What was your favorite part?