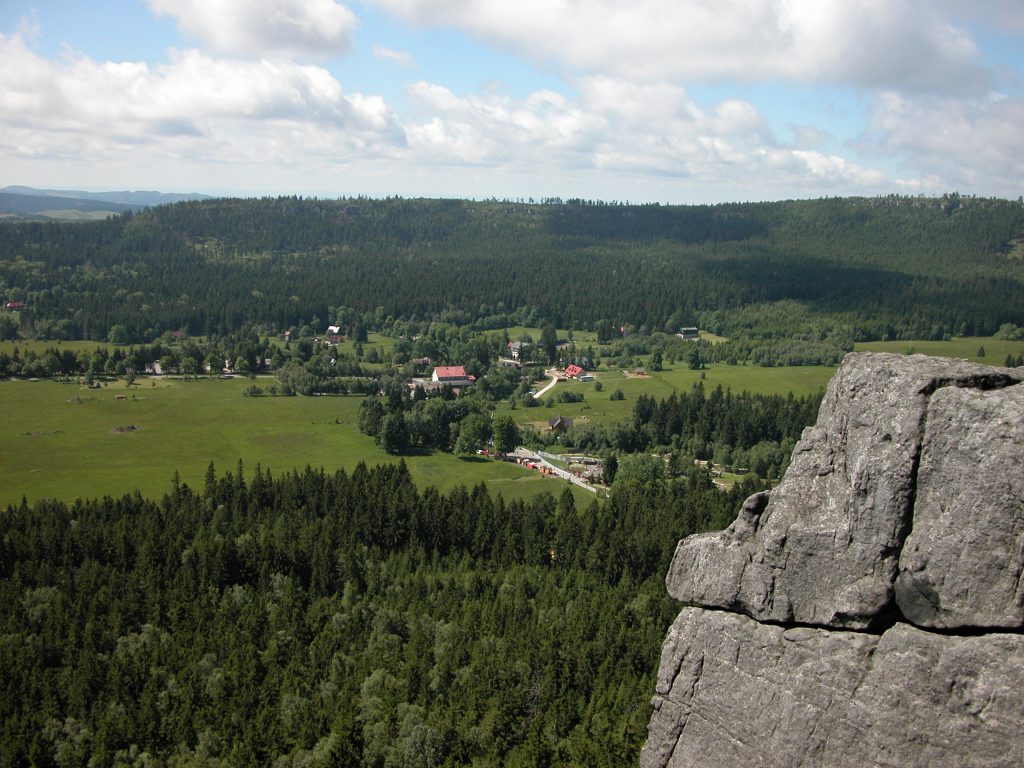 Going hiking and visiting historic towns are two major things to do in Poland. We learned that hiking is a big part of the culture in Poland. Young school age children are taken on short hiking trips during their class time – many of them would pass us while we struggled to make it to the end of the trail. It's not uncommon to see groups of people of all ages with their hiking sticks following one of the numerous trails. If you love hiking, Poland is the place for you! You will spot a trail marker everywhere you go.
Hiking in Poland
One of my dad's favorite pastimes is hiking, and Poland is a great place for that. You can spot trail markers throughout the city on light posts, trees, and building corners leading to the outskirts. There are mountains everywhere and with stunning views! Some mountains we visited were: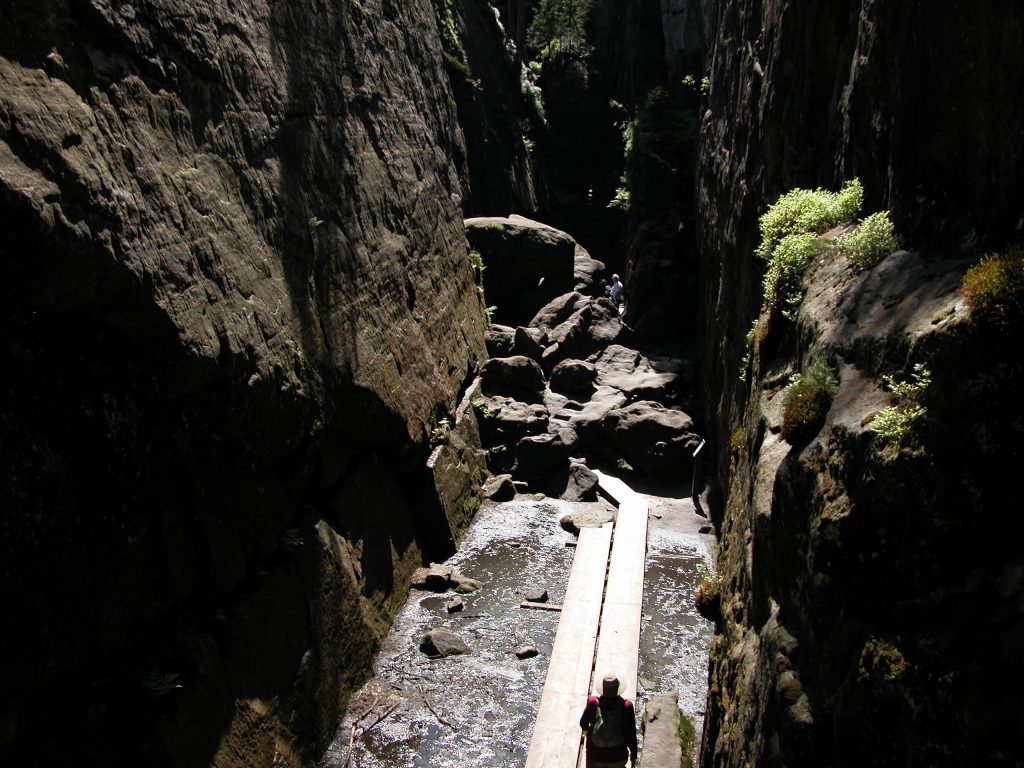 It is free to hike up but there is a small entrance fee to the rock labyrinth section which is worth it. The labyrinth contains rock formations that look like different animals, each has a sign to tell you what it supposedly looks like. We tried our best to look like the gorilla formation.  I highly recommend this one for an easy first hike, but make sure you stretch beforehand because you will be crouching low to get through some areas.
There are many different routes to choose from, all of which are free. I believe yellow was the easiest since I saw people with strollers on that route. At the very top there is a tower and an adjacent shop. This shop sells beer, ice cream, and snacks but no water. Welcome to Poland! A short hike down another route will lead you to a restaurant. There are wooden statues surrounding it which make good photo-ops.
You can take a lift up to ride the mountain coaster (aka toboggan) for a small fee or you can hike up for free. After the exhilarating ride on the coaster, we hiked a bit more to reach the top where we purchased fried cheese to munch on. Afterward, we hiked down the other side of the mountain where I wish I had hiking sticks because of the mossy rocks.
If you are spending a night in the nearby town of Ustroń, I highly recommend staying at Country Corner guesthouse. You can find more information at this Polish website (just use Google translate). It was a beautiful place for a great price.
Równica
This free hike up had mostly shaded trails with a restaurant on top. You might even see groups of children on a sort of field trip hiking this mountain. I noticed that hikers normally greet each other in passing so it is advised that you learn the greeting that can be used all day long – dzień dobry.
During the summer there is a small fee to hike up. Although I almost backed out because of how dangerous it sounded, it ended up being my favorite hiking adventure. I highly recommend doing this hike as it was exhilarating to go up past the height of the clouds.
We started at Przełęcz Krowiarki where is a small parking fee. We followed the blue trail (very easy) until it intersected with the yellow trail (medium-difficult) and took that up to the very top of the mountain. We then took the red trail (easy) back down to the parking lot. See this map for our exact route.
A cable car is available to take you to the top of the mountain for a fee. It is a large attraction in the summer for hiking and in winter for skiing. Make sure to take a stroll through the main street Krupowki in Zakopane afterward.
It is free to hike up almost to the top but if you want to go to the summit and observation area there is a small fee. The view is breathtaking and the tiny looks miniature. Our route from Sromowce Niżne was not very difficult and shaded for the most part.
Non-hiking activity in Sromowce Niżne: Traditional rafting trip up the Dunajec River with Poland on your left and Slovakia on your right and a great view of the mountains. Wear sunscreen and a large hat if possible since you will be directly in the sun for quite some time. You may need to arrange transportation for the way back to the beginning of the river boat if you left your car there or to where ever your next destination is in the town. We took a minibus back to our accommodation. The rafting from Sromowce Katy marina to Szczawnica takes about 2.5 hours. About 49 zł (~$12 USD) per adult.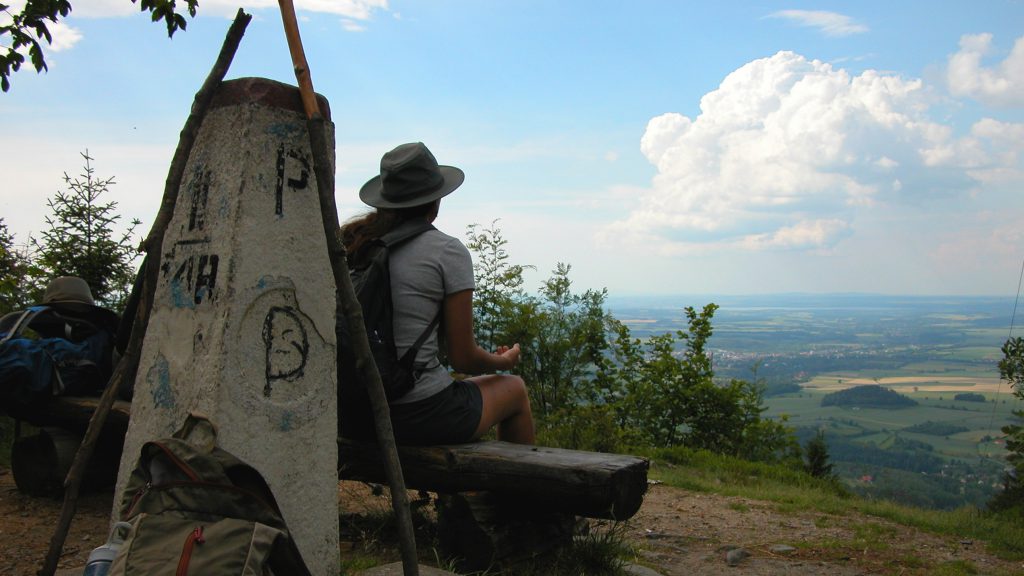 Tip #1: Bring lightweight snacks with you on the hike. Most mountains have a diner at the top but of course that means you will be spending money.
Tip #2: Stay at guesthouses instead of hotels to save money and get a more authentic feel of the town.
Tip #3: Use https://mapa-turystyczna.pl/ to plan hiking trips in Poland. It's in Polish but easy to navigate regardless. Always plan your hikes in the morning because storms are more likely to come after noon.
Tip #4: Add this number to your phone, Mountain Rescue Team (TOPR) +48 601 100 300 just in case.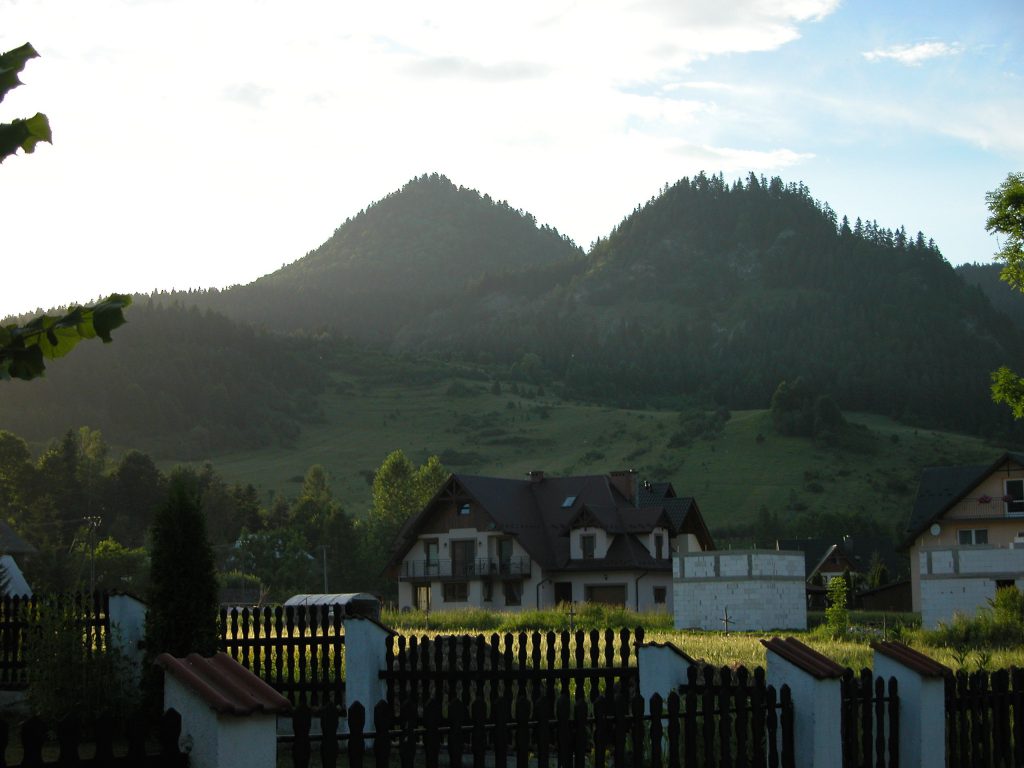 Cities worth visiting
The next best activity to do in Poland is to visit all the old towns. There is so much history everywhere you turn (even underground!).
Warsaw Uprising Museum is free on Sundays. Arrive early to avoid the lines and to give yourself enough time to see everything as there is a lot to see. You can find many free walking tours around the city in multiple languages. The tour guides do ask for a donation at the end of the tour for whatever amount you can give.
This is where Pope John Paul II was born and raised. You can visit his home, the Basilica adjacent to it, and the school he attended in a single day trip here. My favorite part was trying out the kremowki dessert that was apparently Pope John Paul's favorite snack growing up. There are many shops that claim to make the original kremowki. My favorite was version was the one located across the plaza from Basilica of the Presentation of the Blessed Virgin Mary, in a corner shop.
This is a fairly large town with many things to see and is well known in the backpacking world. You can find food for all budgets, but the ones closer to the center will be more expensive since it is highly visited by tourists. Visit the Rynek underground museum of the old town. There is a small fee to enter but if you like history museums then it is worth it. There are sections of the old town on display that were uncovered not too long ago and a description for everything that was discovered in the area, from coins to bodies.  Make sure to visit Wawel Castle; a main Krakow attraction. Once a week admission is free, either on Sundays or Mondays depending on the time of the year.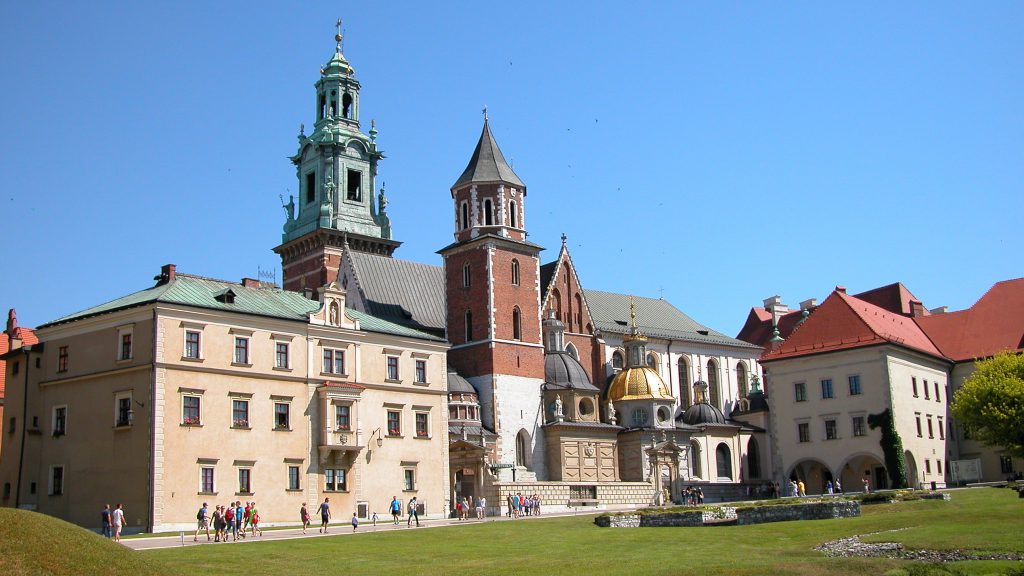 Tip #5: Bring your Student ID or an ID with your birth date. Some places give student and senior discount and even discounts if you are under a certain age.
Tip #6: Carry change with you to pay for public bathrooms. Not many places will have free bathrooms but your best bet is Starbucks and McDonald's. ThriftyTip: Go to the bathroom every chance you see a free one such as in a museum or in the restaurant where you stopped to eat. Even if you don't think you need to go, just try.
Tip #7: If you are driving around Poland, make sure to pay attention to the signs on how to park in that certain stretch of road. It can be either completely on the sidewalk, completely on the street (parallel park) or half on the street and half on the sidewalk.
Tip #8: Some stores, ex. Biedronka, you need to insert a coin to get a shopping cart. When you put the cart back, you get your coin back, just watch the locals. In some stores in Poland you also have to pay for grocery bags, so bring your own reusable bags to save money.
Food
If you find yourself in Łódź, try to locate Bakłażan which is known for their homemade Polish food for a good price. You MUST try pierogies (my favorite is filled with cheese and topped with sugar), beet soup, goulash, and kielbasa. Ice cream is very popular in the summer and it is very cheap (only 25 cents in most places!), so we had at least one every day after finishing a hike.
Tip #9: All McDonald's have free Wi-Fi. Take advantage!