Hong Kong is a small island off the coast of China known for a culture that blends East and West. It also includes Kowloon and the New Territories which reside on the mainland side connected by one of the most efficient and advanced subway systems in the world. If you want to visit a bustling city that has hiking trails, breathtaking views, and delicious food, then Hong Kong should be on your list of places to visit. Home of the world's most affordable Michelin star restaurant at less than $2.00 USD per dish. Read on for tips on how to visit this city on a budget.
Free Places and Activities
Hong Kong Museum of History
Free admission to permanent and special exhibition. Free 1.5 hour guided tours in English at 2:30pm on Saturday, Sunday, and Public Holidays.
Hong Kong Heritage Museum
Permanent exhibition is free of charge. Museum is closed on Tuesdays.

Special exhibitions do have a charge. $20 for standard ticket, $14 for group ticket and $10 for reduced ticket.
Nan Lian Garden
Free beautiful public park built in the middle of the hustle and bustle of the busy city.

Built in the style of the Tang Dynasty – every hill, rock, body of water, plant and timber structure has been placed according to specific rules and methods. Take a map from the entrance to guide you through the park.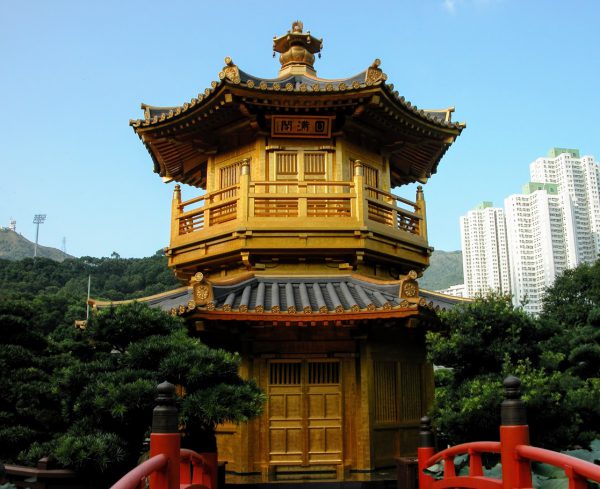 Chi Lin Nunnery
Located just North of the Nan Lian Garden and connected to it.

A large temple complex of elegant wooden architecture, treasured relics, and lotus ponds. Free to enter.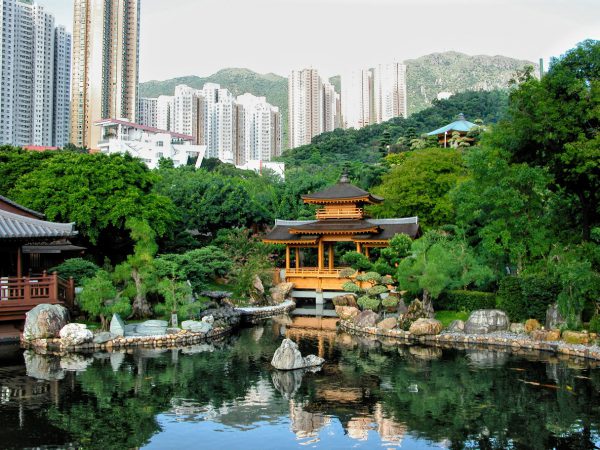 Kowloon Walled City Park
Situated on top of the former Kowloon Walled City. From 1898 to 1993 it was a densely populated walled in lawless city. It is now a large park for all to enjoy.

There are exhibitions room opens daily from 10:00a.m. to 6:00 p.m. except Wednesdays.
Tsz Shan Monastery
Free but booking must be made online or over the phone prior to visiting.

Disclaimer: The Monastery is for spiritual practice and for promoting Buddhism. The Monastery is not intended to be a tourist attraction. Please remain quiet throughout your visit at the Monastery and wear the proper attire. See their

terms and conditions

before planning a visit. There is a dress code.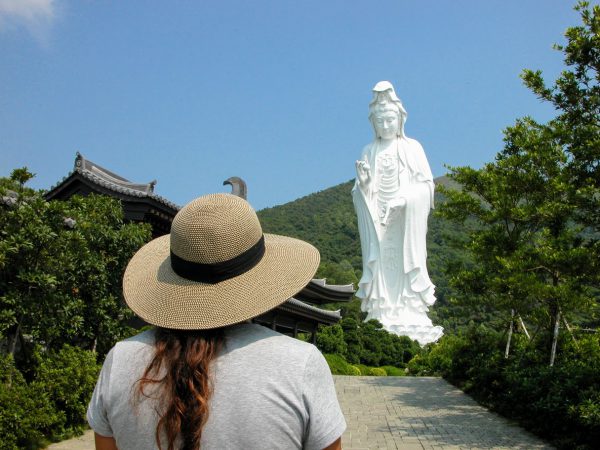 Ladies' Market
Located on Tung Choi Street, this 1km stretch of over 100 stalls has everything you are looking for. Practice your haggling skills!

Popular with locals and tourists alike, you can go to just see what it's all about; making it a free local 'attraction'.
Symphony of Lights
World's Largest Permanent Light and Sound Show is a nightly multimedia show involving more than 40 buildings on both sides of the harbour.

Begins at 8pm daily. The show lasts for about 13 minutes.

You can listen to the show's music and narration at the Tsim Sha Tsui waterfront outside the Hong Kong Cultural Centre, and the promenade outside the Golden Bauhinia Square in Wan Chai. Live narration is available in English on Mondays, Wednesdays and Fridays.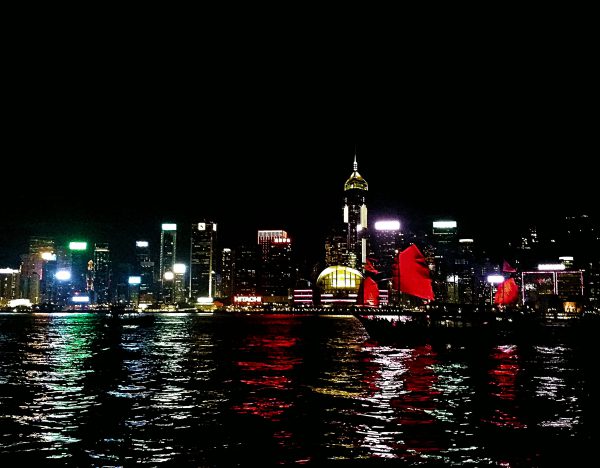 Hong Kong Pulse 3D Light Show
Another light show but this one includes performers. Located near the same place you would be standing on the mainland side to watch the Symphony of Lights: Open Piazza of Hong Kong Cultural Centre.

First show starts at 8:20pm so you should stick around after the Symphony of Lights and watch this one as well.
This 3 hour hike is not for the faint of heart. The sunsets are said to be gorgeous from the 869 meter viewpoint.
End the hike by taking the bus back to Tung Chung and finding a restaurant to end your definite hunger.
Ten Thousand Buddhas Monastery
Life size Buddhas lines the path and they are each uniquely different.
Make sure to wear comfortable shoes and some water for this free activity.
Victoria Peak (The Peak)
The highest point on Hong Kong island has a free hiking trail that loops around.

The Peak Galleria has a free-entry observation deck. You can also go to Lugard Road Lookout and Lions Point View Pavilion to have a bird's eye view of the city below.


Avenue of Stars (moved to Garden of Stars until late 2018)
In this outdoor exhibit you can find sculptures of Bruce Lee, Anita Mui, McDull and the Hong Kong Film Awards statuette along with 20 star handprint plaques.

Many couples and families come here to relax after a long day. Also a great place to play Pokemon go due to the many pokestops.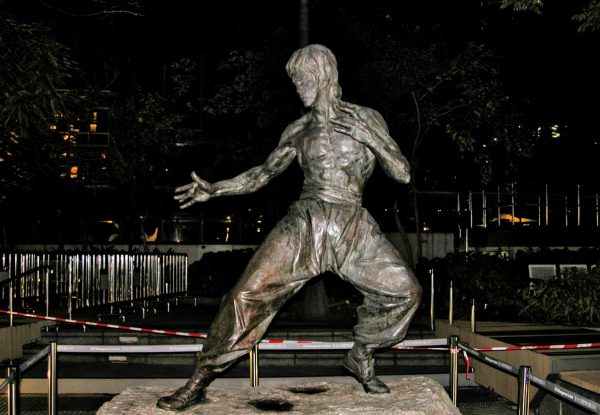 Cheap But Not Free
Big Buddha
The lift to go up the mountain costs $255 HKD per person for a roundtrip. On the other hand you can take the bus for $17.20 HKD each way on weekdays and $20 HKD each way on weekends.

There is a nearby village, hiking trails, and gardens. No fee to climb the steps up to the Big Buddha.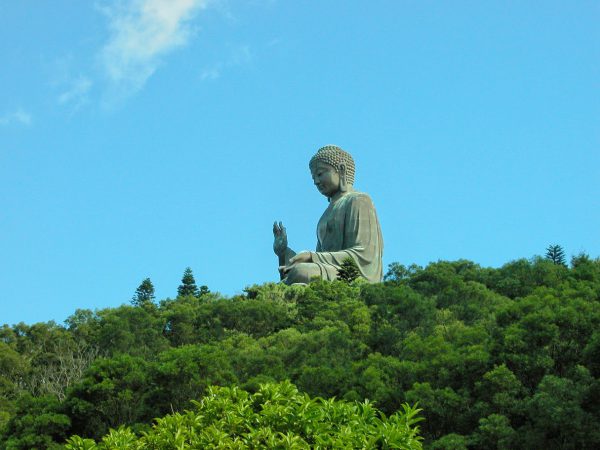 Ocean Park
An amusement park for $193 HKD for children age 3-11 and $385 HKD for adults age 12 and up. Free entry on your birthday for Hong Kong nationals .

As soon as you enter take the cable car up for a beautiful view. After you explore the top section of the park take the tram down and finish you day exploring the bottom section.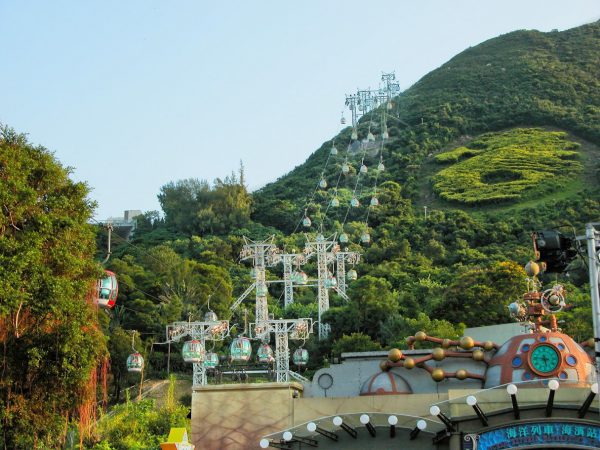 The Hong Kong Observation Wheel
$100 HKD per adult, $70 HKD per local student or child age 3-11, $50 HKD for senior citizen or disabled. There are

private cabins

available starting at $500 HKD.

Open 10am-11pm with the best views being at sunset or at 8pm during the Symphony of Lights. Total ride is about 15-20 minutes long.
Hong Kong Science Museum
$20 HKD for standard ticket, $14 HKD for group ticket (20 people or more) and $10 HKD for reduced ticket*

*Full-time students, people with disabilities and one accompanying carer, senior citizens aged 60 or above
Star Ferry**
A form of transportation between mainland and Hong Kong island but also a way for visitors and locals alike to get an up-close look at the popular harbours.

Schedule and prices can be found

here

.
Tip #1: Bring your reusable water bottle to fill up at the fountains at Ocean Park. It gets VERY hot in the summer so invest in a portable fan and umbrella to shade from the sun.
Tip #2: If you need to cool down while in Ocean Park, go to the aquarium and animal enclosures as there is AC. There is a water area for children to play and cool off.
Tip #3: When you are in line for a ride there might be people trying to skip the line. Don't let them! Stand your ground!
Tip #4: If you plan on visiting all the museums then I would suggest looking into the annual museum pass.
Eat Like a Local
Foods you must try when you see them while roaming the streets of Hong Kong: egg tarts, egg waffles, fish balls

You may observe that at some restaurants, the locals do a customary utensil washing with hot water or tea. It is a traditional custom that has been passed down generations and doesn't necessarily mean they think the items are dirty. You can copy and do the same if you like but you don't have to.

Keep in mind that at large or busy restaurants you may be asked to write down your order. It's not common but you might encounter it. You may also have to flag down a waiter.

Visit Yee Shun Milk Company or Australian Dairy Company and try their steamed milk. It's a slightly sweet warm milk pudding of sorts. I've never had anything like it before and a few days later I came back for more.

Gong Cha is a beverage shop that is best known for their bubble and boba milk tea. I highly recommend trying the Taro Milk Tea. A cup goes for $18 HKD and an extra $3 HKD for boba.

TeaWood is a Taiwanese Cafe and Restaurant. It has a more upscale feeling to it and is pricier than most traditional restaurants. We had the Mango Shaved Ice drink and the Mango Honey Toast. Both were extremely delicious. I would recommend to go at least once if you have a sweet tooth.

We attended a couchsurfing gathering at Mr. Wong's Restaurant. Because we were part of the group we paid a small flat fee and got all you can drink beer and a variety of dishes. Located on Argyle St and Tong Mi Road.

Hong Kong is home to a number of Michelin start restaurants. Several, like Tim Ho Wan, are some of the cheapest restaurants to boast this achievement.
Getting Around
Depending on how long you are visiting Hong Kong, you should look into the Octopus Card for using the metro system. Hong Kong has one of the best laid out metro systems I have ever seen.

Airport Express is the easiest way to get to Central Hong Kong when you arrive. Once you get comfortable with the system then you can get a

cheaper route

back to the airport. Take the regular metro to Tsing Yi Station and catch the Airport Express from there.

To get to Ocean Park you can take Bus 629 directly from Admiralty to the front entrance. You need to have a ticket in hand for this option. Otherwise, you can take bus 260 from Central bus terminus to a nearby stop and walk a bit to arrive at the front entrance.

**Star Ferry is an alternative option to the metro to get from Hong Kong island to mainland. I would encourage you ride it at least once on a nice clear day.
[google_maps id="1591″]