Enjoying a big hearty meal is even better if topped off with some delicious desserts. What could be better than the hard sugar-coating on a creme brulee or the cool sensation of ice cream to finish off a great meal? Everyone has their preferences in dessert, some like them covered in sugar, some like them rich and creamy, but whatever your tastes may be, traveling can show you a world of unique confections to satisfy your sweet tooth.
Mazamorra Morada (Peru)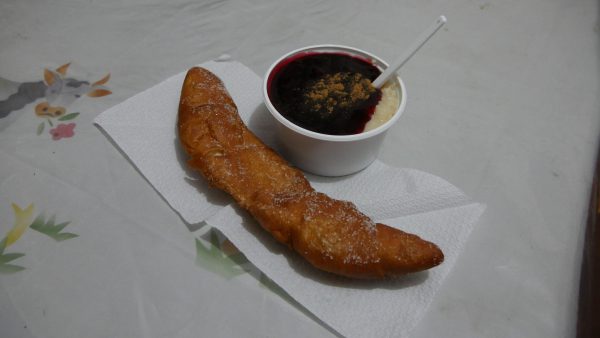 Mazamorra morada is Peruvian purple corn pudding thickened with cornstarch and flavored with cinnamon and cloves. It is made with purple corn resulting in a translucent appearance and tasting similar to blackberry. You can buy mazamorra morada from street vendors who might also be selling arroz con leche, when ordering from these vendors you can ask for a combination of half mazamorra morada and half arroz con leche.
Other desserts to try: Arroz con leche, Picarones
---
Mango Sticky Rice (Thailand)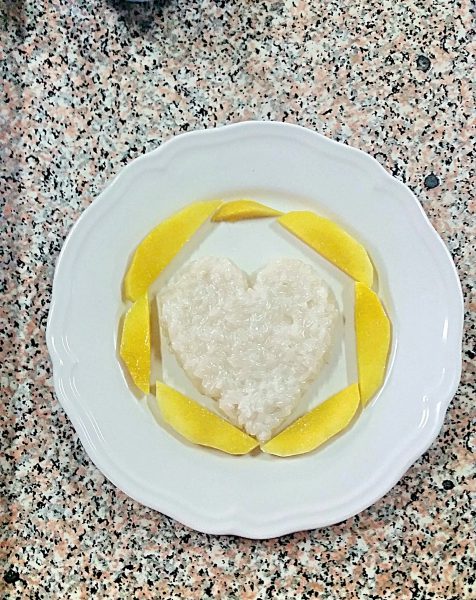 Mango sticky rice is a staple in Thailand. This dessert is made with sticky rice that is steamed in a bamboo basket and topped with coconut milk, mango slices, and fried salty mung beans. The fresh mangoes paired with the sweet coconut milk made this one of our favorites on our trip. An alternative to the white sticky rice is black Thai sticky rice which gives a dish a nice purple color. Although it is most popular in Thailand, mango sticky rice is also enjoyed in Laos, Cambodia, and Vietnam.
---
Honey Toast/Brick Toast (Japan)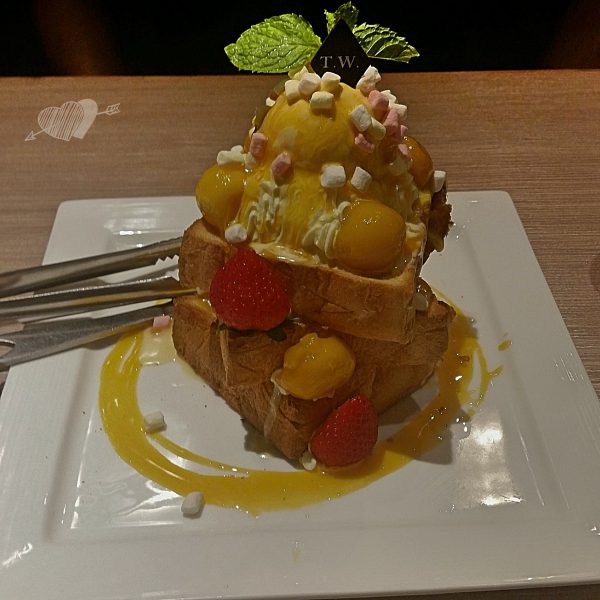 Desserts are best when they look as good as they taste. Honey toast is a dessert originally made in Shibuya, Japan that includes toasted bread chunks, ice cream, fresh fruit, chocolate, and whipped cream crammed into the hollow cavity of half a loaf of bread. The chunks of bread are toasted with butter and reassembled with your preference of toppings. Honey toast definitely looks great and tastes amazing as well. When first trying honey toast it can be overwhelming how much food they put on the plate, but usually serves two or more people. Overall the presentation, taste, and portion size make this a must try dessert.
---
Dango (Japan)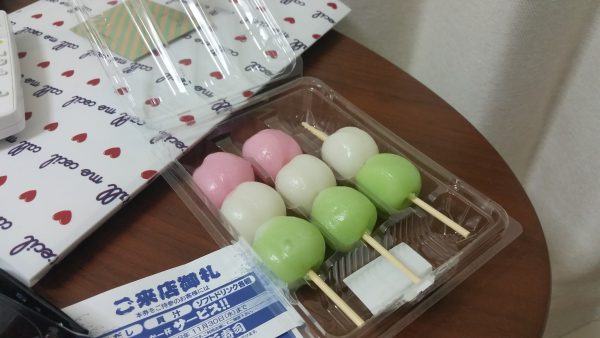 Dango often come skewered on sticks and are made from rice flour. You can find dango in many different flavors and varieties sold by street vendors and combinis. Dango is eaten all year round but special varieties are traditionally eaten in specific seasons such as otsukimi dango which is eaten in the Fall. There are many different varieties of dango from sweet to savory and can be coated in various toppings. Although we prefer mochi, dango are fun to eat and a cheap snack – there's even a song about them!
---
Mochi (Japan)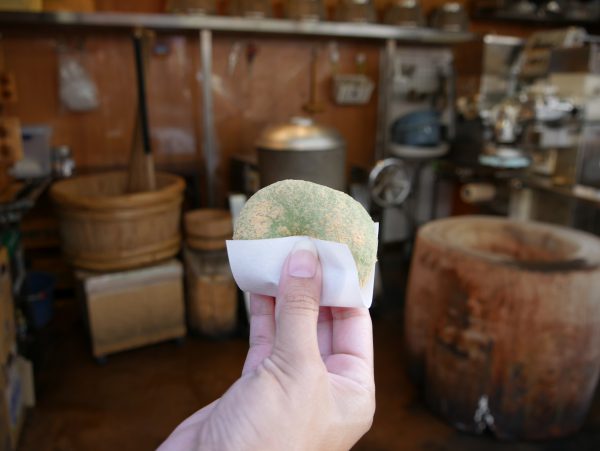 Mochi is similar to dango in that they are both made from rice flour. However, mochi is made from mochigome and traditionally pounded by hand with wooden mallets. Mochi tastes great on its own but is even better when wrapped around a small scoop of ice cream. While mochi is best recognized for its round shape, it also comes in square cakes which can be layered with red bean and other ingredients. The simple ingredients: rice flour and water make mochi a dessert that is fun to make at home and is not too difficult with the help of an electric mochi machine.
---
Cheesecake (Japan)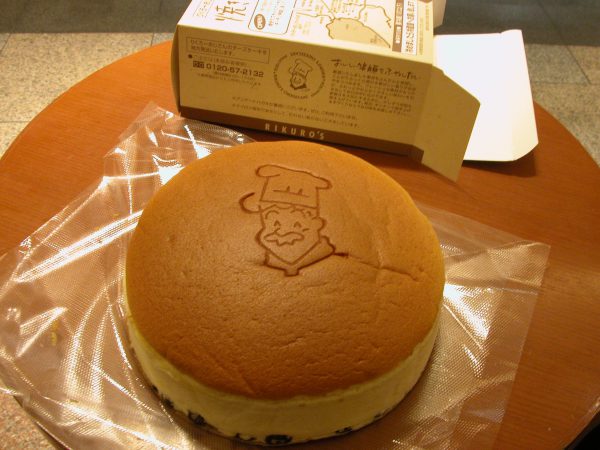 Make sure to try the cheesecake at Rikuro Ojisan no Mise (Uncle Rikuro's) when in Osaka. The cheesecake served there is unique because unlike cream cheese base recipes it is light and fluffy. When the cakes are fresh from the oven they jiggle and bounce as workers brand the cakes with Uncle Rikuro's signature logo. There are two locations in Osaka but several other bakeries make this Japanese style cheesecake such as Uncle Tetsu.
---
Brigadeiro (
Brazil)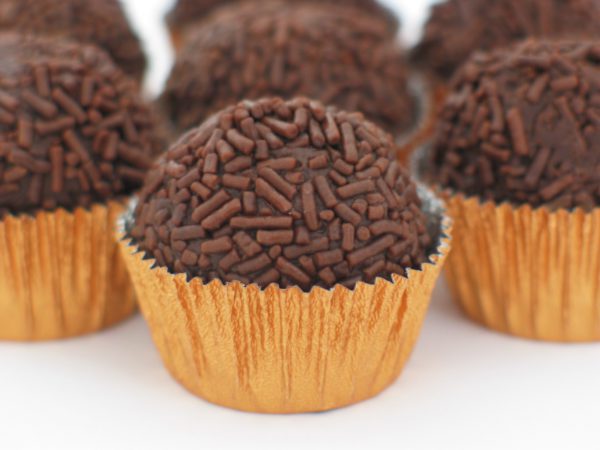 Brigadeiro is an important part of Brazilian culture and should definitely be tried if you get the chance. It is a combination of cocoa, butter, and condensed milk that is heated and formed into balls once cooled. The story goes, in the time after World War II fresh milk and sugar was difficult to come by, so condensed milk and cocoa were used to create a sweet treat. Although brigadeiros are usually formed into balls and placed in small cupcake molds, the brigadeiro can also be enjoyed straight from the pot using a spoon.
---
Egg Tarts (
Hong Kong)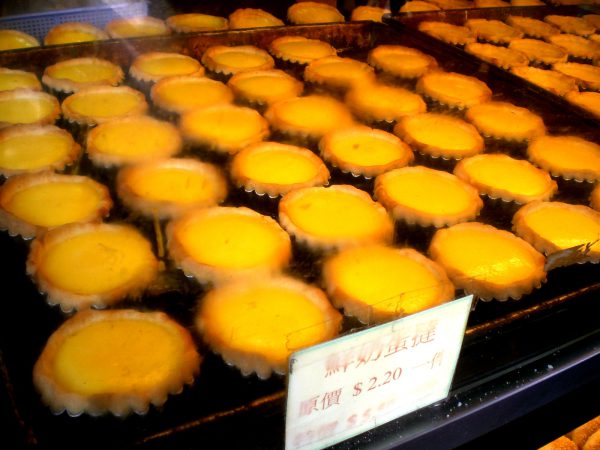 Egg tarts consist of egg custard baked in a crust of flaky, buttery dough. First made in the 1920s in Guangzhou the pastries were brought to Hong Kong from the Portuguese colony of Macau. Each country has a different variation on egg tarts, Hong Kong has a smoother glossy finish due to British influence. Hong Kong is well-known for their egg tarts and they can be found in dim sum restaurants around the world. Egg tarts can be finished in just a few bites so make sure to get more than one!
Other desserts to try: Steamed milk pudding
---
Maple Taffy (Canada)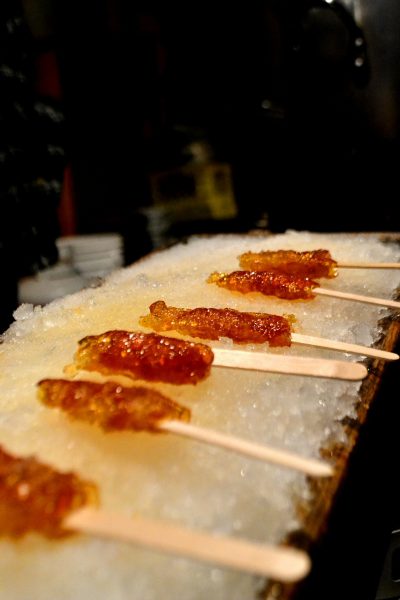 Maple taffy is made from molten maple syrup which is poured onto clean snow. Eaten from a popsicle stick or fork, maple taffy is a soft chewy treat that is usually eaten when making maple syrup. The consistency of the finished product is determined by the temperature at which the initial syrup is boiled, the higher the temperature the thicker the maple taffy will be.
---
Tres Leches (Mexico)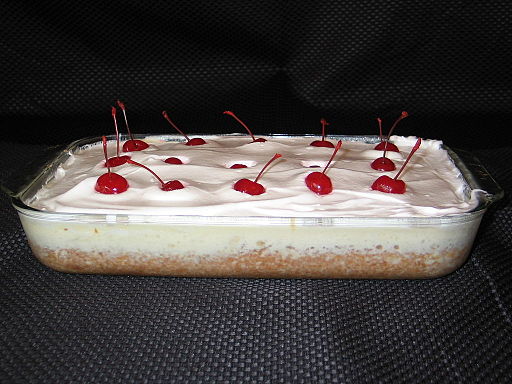 Tres Leches is a sponge cake which is soaked in three kinds of milk: evaporated milk, condensed milk, and heavy cream. The light sponge cake absorbs the rich flavorful liquids and forms a moist treat for any occasion. Pan tres Leches translates to "Three Milks Bread" and is popular in Central, North, South America, and parts of the Caribbean, as well as in Europe.
---
Brownies (
USA)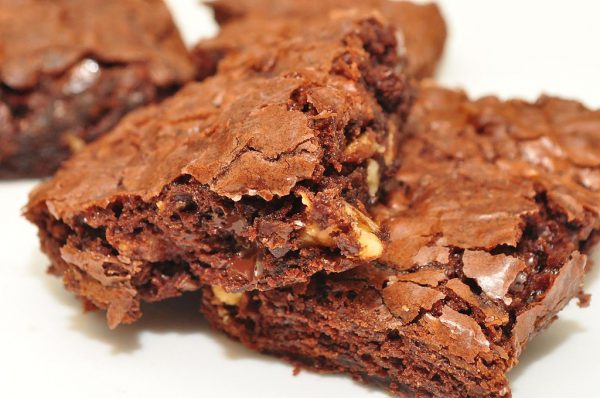 Brownies are a dense cake that is similar to the consistency of a cookie. Popular in the USA and Canada, brownies are easy to make and taste great topped with ice cream. Brownies are typically eaten by hand without the use of utensils and accompanied by milk or coffee. The term "brownie" was first used to describe the cakes in an 1896 cookbook and the name stuck.
Other desserts to try: Cheesecake
---
Creme Brulee (France)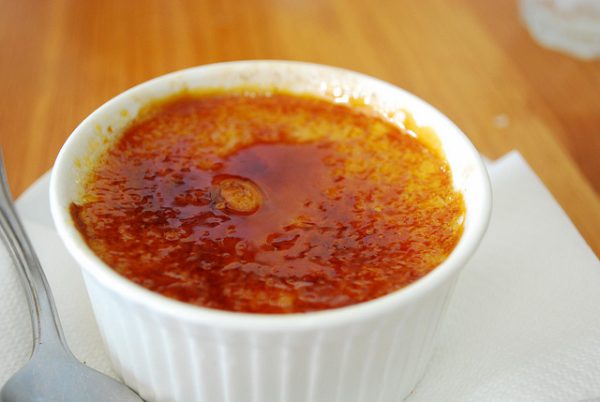 Nothing compares to a creme brulee when you crave the crunchy hard caramel topped dessert. Usually served at room temperature, the sweet custard base is often flavored with vanilla and in a ramekin for single serving enjoyment. Also known as burnt cream, a layer of sugar is burnt with a blowtorch to create a hard caramel that contrasts with the soft custard below. Creme brulee was first mentioned in a 1691 cookbook and several countries have their own version of the dessert.
---
Gelato (Italy)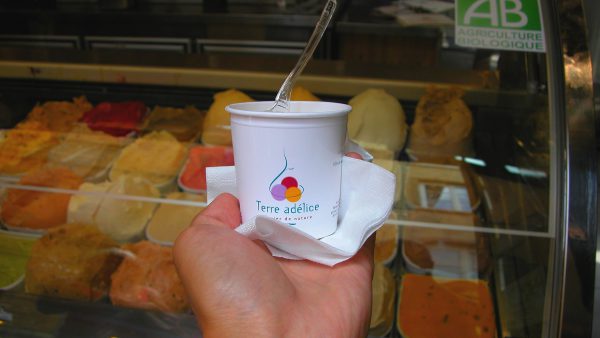 The heat of summer calls for extreme measures, and that includes heading to the closest gelato shop for a cool refreshing treat. In our travels we tried ice cream and gelato from all over the world, and Italy has some of the best. Gelato, the Italian word for ice cream, refers to ice cream made Italian style. By law, gelato in Italy must contain at least 3.5% butterfat, similar to the United States where ice cream must contain 10% butterfat.
Other desserts to try: Cannoli
---
Leche Asada (Chile)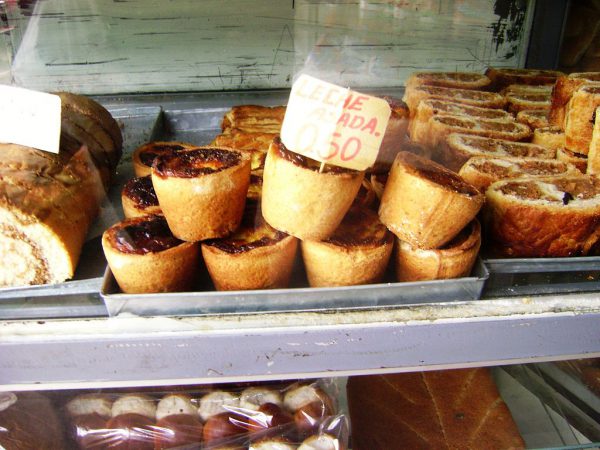 Leche asada is Chile's version of the creme brulee. Flavored with cinnamon and lemon this spin on a classic dessert is spiked with pisco for added flavor and moistness. The leche asada is not topped with hard caramel like the creme brulee, instead it is baked until browned on the top.
---
Patbingsu (Korea)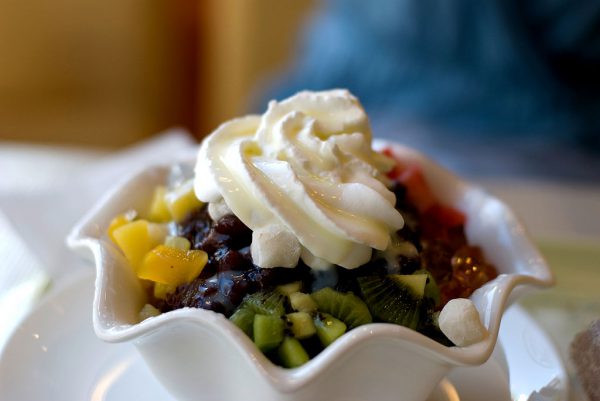 We first tried patbingsu at a chain store called Suno and have been in love with it ever since. Made from thinly shaved slivers of frozen milk, the shavings melt instantly on your tongue leaving a flavorful blend of milk and fruit toppings. You can also add syrups like condensed milk and chocolate if you have a sweet tooth.
---
Belgian Waffles (Belgium)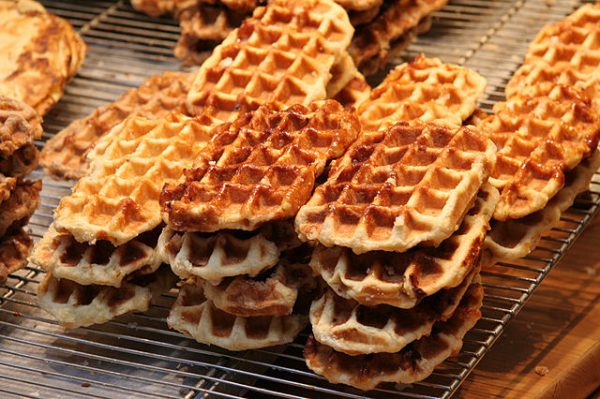 The smell of Belgian waffles is more than enough to draw you in to get a closer look. Despite its simple recipe, waffles are versatile and delicious when topped with ice cream or fresh fruit. The waffles also come with many different flavors such as chocolate and pistachio baked right in.
---
Alfajores (Argentina)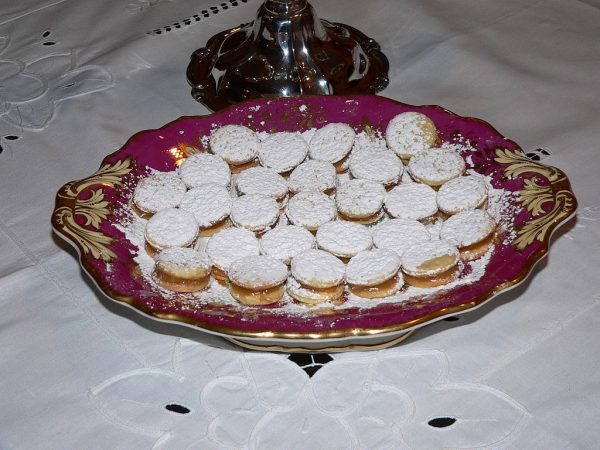 If Oreos are America's favorite cookie, then alfajores are Argentina's. Alfajores are made by sandwiching dulce de leche between two delicate cookies and are usually topped with powdered sugar. Local bakeries in Argentina and Peru will sell alfajores in many different sizes and for less than a dollar for an extra-large one.
---
Babka (Poland)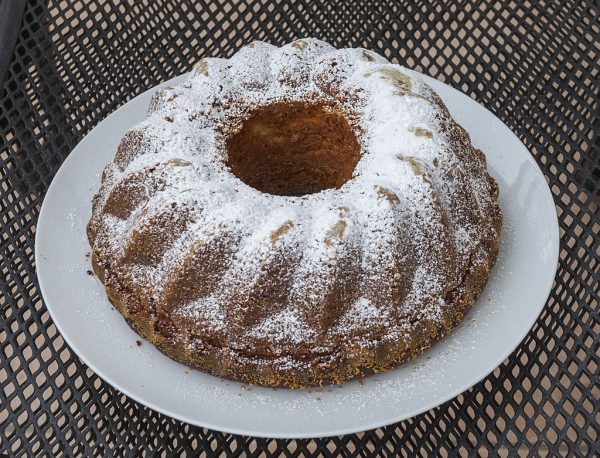 Babka in Polish means grandmother, this is because the bundt cake shape looks like the pleats on a grandmother's skirt. The cake is flavored with a run syrup containing raisins, currants, or candied fruit. Traditionally eaten around easter time, we didn't get a chance to try it when we were in Poland but we did make several other varieties of cakes using fresh picked strawberries from the garden.
---
Kremowki (Poland)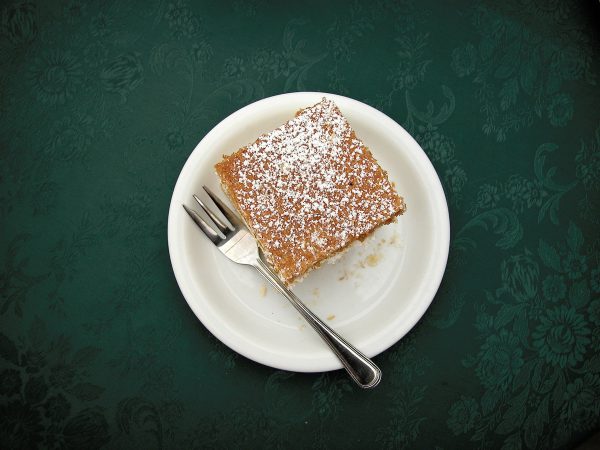 Kremowki or napoleonka is a Polish creme pie made with whipped cream between two layers of puff pastry. Kremowki became popular after Pope John Paul II spoke fondly of it, he had eaten 18 kremowkas after his matura exam.
Other desserts to try: Kogel Mogel
---
Flan (Spain)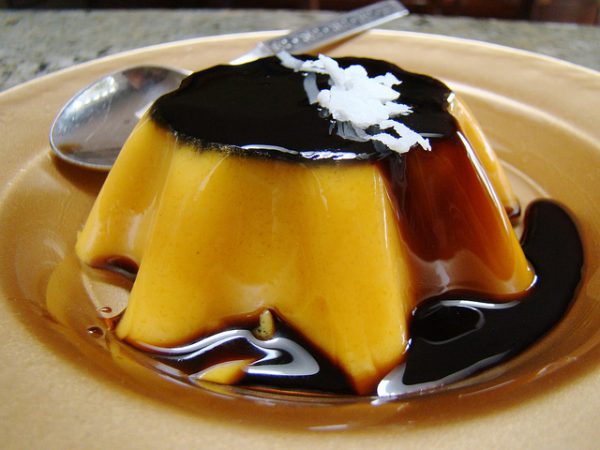 You will enjoy flan if you enjoy the custard base of a creme brulee or egg tart. Flan is a rich, creamy, and sweet dessert that is topped with liquid caramelized sugar.
Other desserts to try: Churro