This is the continuation of our experience in Costa Rica. If you are interested in finding out what kind of large beast animal we came across on our night time trail hike, read Costa Rica Part 1.
2) White water rafting
We all woke up bright and early the next day to eat breakfast which was included in the hotel stay. Everything was made fresh in their little kitchen as soon as we ordered from their limited but delicious menu.
I had organized a white water rafting trip through Desafio Adventure Company and part of the package was transportation to and from our hotel. They arrived promptly at 7:45am and we were off for our first planned adventure. We did the Rio Sarapiqui White Water Rafting Class 3 & 4, keep in mind none of us had ever done white water rafting before but we were up for the challenge. The package with Desafio including transportation with a fun guide getting us hyped up on the way there, an experienced guide on the raft, tropical fruit break, delicious home-cooked meal, and a warm towel. The entire trip from being pickup to being dropped off was about 8 hours, and for $89 each, it was totally worth it.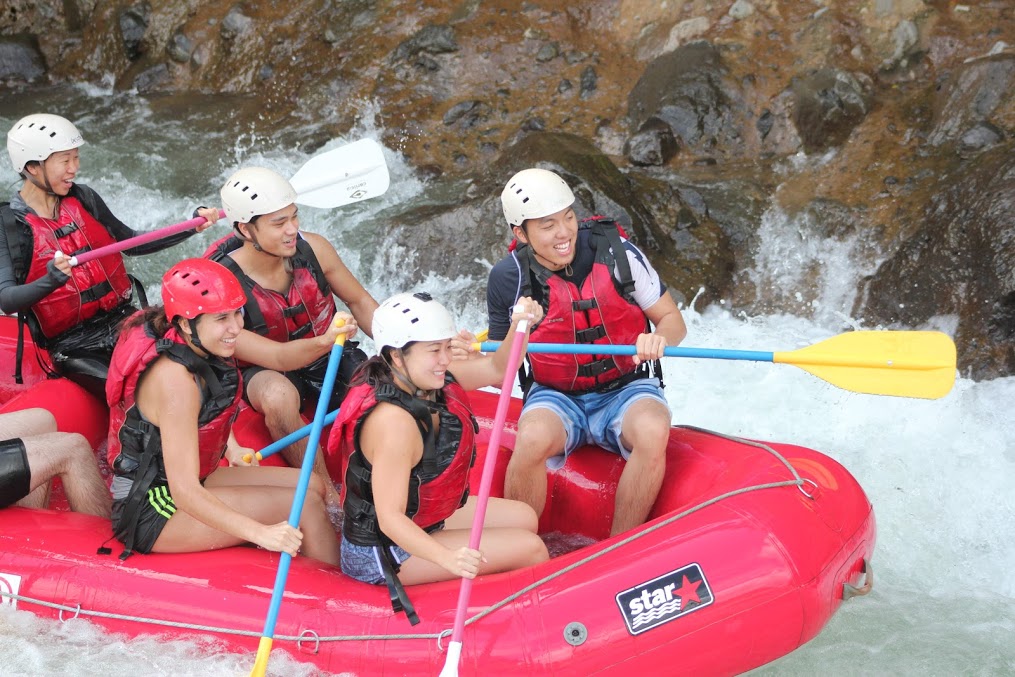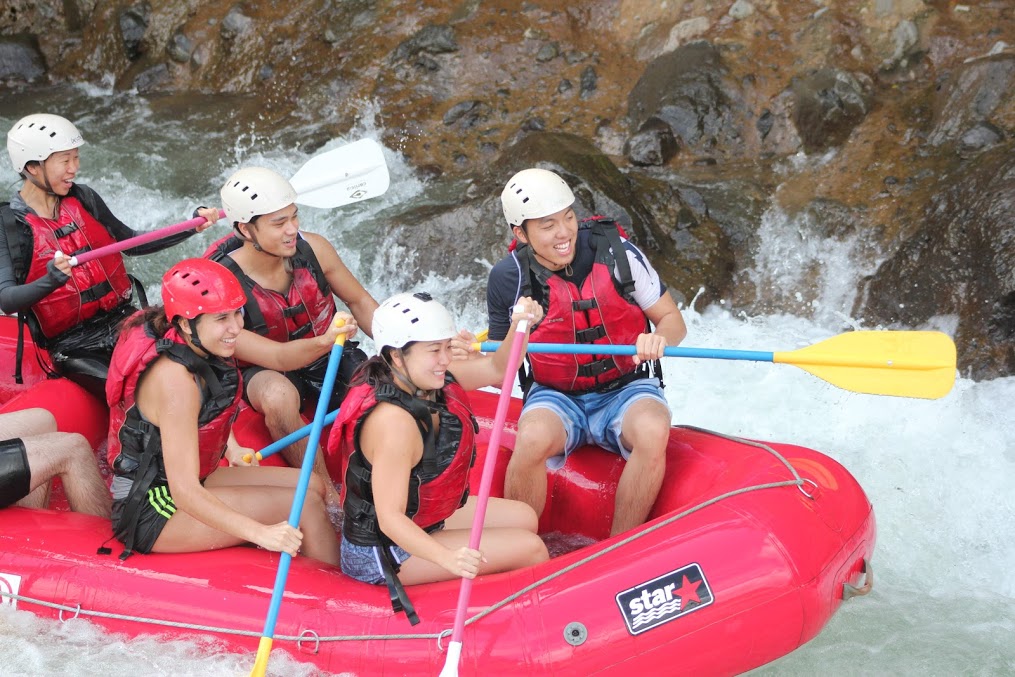 TIP #1: Be careful driving around the mountain side. On the way to the rafting location we hit traffic because the night before a small truck had gone off the side of the mountain and it was being hauled up that morning. There aren't many lights or reflective signs so it can get dangerous if you are going a bit too fast and especially if it's raining like it did the night before.
3) Hot Springs with the locals
As I mentioned before, I am all about budget friendly, do-it-like-the-locals mindset when traveling. In La Fortuna, there are many natural hot springs that stay heated by the nearby Arenal Volcano. Unfortunately, the fancy hotels in the areas have monopolized a majority of them for their own private use for their paying guests. Our budget friendly Campo Verde Hotel did not have hot springs on their property, but fear not, I had already done research on how to find free hot springs, like the locals do.
I got the most information from posts on TripAdvisor and read through many posts in order to get an idea of where this hot springs was located. There is no "Free Hot Springs Here" sign or anything obvious so I wanted to make sure we didn't get lost on the way. Here is the exact location on Google Maps. Park across the street on the strip of parking spots which you can see in the Earth view on Google Maps. The walking path to get to the hot springs has a yellow gate to prevent cars from going in but it is accessible by foot. If you are going at night, which we did, make sure to bring a flashlight or preferably a headlamp, or you can do it like the locals and bring a candle. The headlamp is used to get through the short path leading to the hot springs located under the bridge. The walkway can get a bit bumpy and slick so be extra careful. The locals use candles to light up the edges of the hot springs and to claim their spot.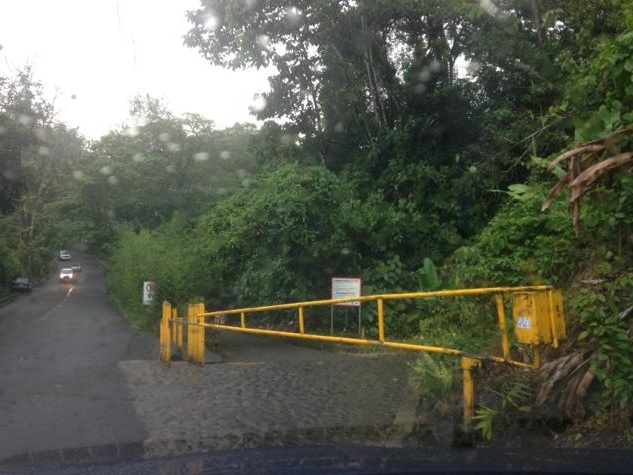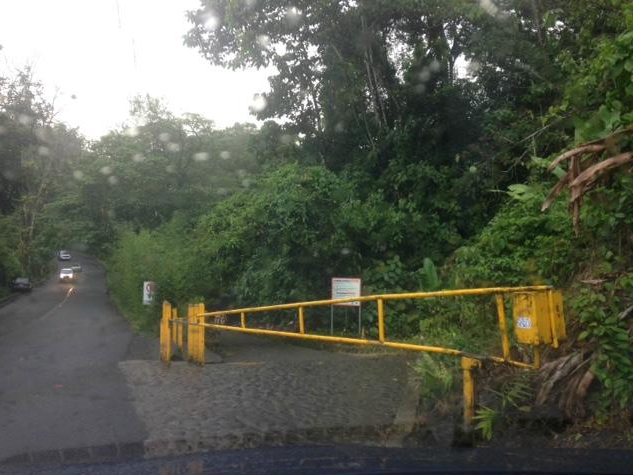 You can walk under the bridge to the other side, but make sure to have sandals or water shoes on as the floor is very rocky in this area. The rocky side is quieter as there are fewer people, probably because of the rocky floor. Some people put some of the fine dark sand from the hot springs floor onto their faces as a type of 'exfoliating mask'. Remember to leave the hot springs just as you found it or better. Watch your step on the way out.
TIP #2: It is customary to tip the "guards" that keep your cars safe while it is parked. It is also customary to tip any tour guides, including the driver if transportation is included.
4) La Fortuna Waterfall
This waterfall is located in a reserve so there is an entrance fee of $14 per person (as of today). There is no public transportation that leads to the entrance so you will have to take a taxi for about $10 from the center of La Fortuna city to the entrance if you don't have a car. You will find the most updated information regarding pricing on their official website http://cataratalafortuna.com/tarifas.html but you will need to use a translator if you can't read Spanish or you can dust off your high school Spanish book and starting reviewing some vocabulary words. The waterfall itself is located at the bottom of about 500 steps. I won't lie, I was huffing and puffing on my way down but mostly on my way up. Luckily there are small areas to rest and take pictures of the view or just catch your breath.
Make sure to visit both areas at the base, there is the main attraction of the waterfall straight forward but also a gentle stream to the left of the base (as you face the waterfall). The water in both areas is freezing cold so I personally didn't go in for a swim but many others did. The rocks and pathways can get very slippery so walk with caution. The entire area reminded me of those zoomed out scenes from Jurassic Park – I was waiting for a T-Rex to just pop out from the trees.
TIP #3: If you are up for the challenge, try hiking to Cerro Chato, a small inactive volcano that has turned into a lake. Our group didn't have enough time to do the hike but I read that it is rewarding once you get to your destination. See here for more information. From what I read on reviews, you do not need to hire a guide as you can just follow the signs but do research for what suits you best.
5) Zip lining
We went zip lining very close to Herradura Beach with a company called Canopy Vista Los Suenos for about $67 per person. One of my friends from the group found this location so we went with it. It was a pretty lengthy zip lining experience and it included some fresh fruit and water at the end. They do have their own photographers taking pictures of you and you can buy a CD with all the pictures at the end of the trip but it is pretty pricey. Our group didn't end up buying it, we relied on our friends that had GoPro cameras.
TIP #4: I would recommend planning in advance to have your friend, that zip lines ahead of you, take pictures or video of you as you come zipping toward them.
6) Jaco Beach
I read mixed reviews for Jaco Beach but decided to go anyways since it was close to where we were staying. The sand is super fine, compact, and flat during low tide – completely different from the South Florida beaches that I'm used to. The view was beautiful and green all around. I would suggest going to watch the sunset if you get a chance. Great place to relax just like the locals.


TIP #5: If you are in the Jaco Beach area and need to get a bite to eat, I suggest you go to Isaga Bar and Restaurante where the prices are good, portions are generous, and the beer is cheaper than the water.