Japanese has a lot of interesting words that just don't exist in English. One of my favorites is kuidaore, which means to 'eat oneself to bankruptcy'. When you visit Osaka you will understand why that word even exists – not because it's expensive, but because you will want to eat everything in sight! In addition, Osaka's motto is, understandably, "eat 'til you drop". Do you see a trend here? Osaka revolves around food! Here are our top food recommendations you must try next time you visit Osaka.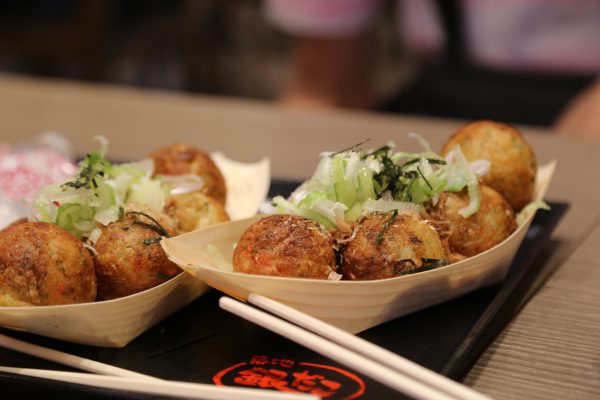 1) Takoyaki
Hands down, the most popular snack in Osaka is takoyaki. This famous street food consists of ball-shaped dough, filled with octopus and is therefore sometimes called 'octopus balls'. For about ¥400-500 you get 8-12 balls. Tim couldn't get enough of these. If you're feeling extra courageous, order them with katsuobushi (aka fish flakes).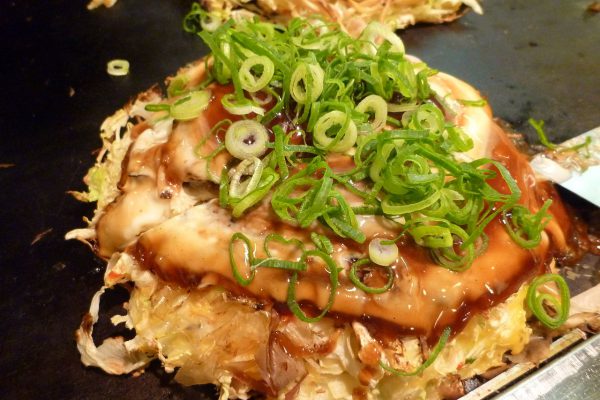 2) Okonomiyaki
Another well-known dish in Osaka is okonomiyaki.  It resembles a savory omelet pancake which is normally served on top of a hot grill on the table or at the bar – hibachi style. The different toppings are endless so choose the ones that are the most appetizing for you. Mine had a lot of cheese and turned out to be a delicious gooey meal. Prices vary but average around ¥800.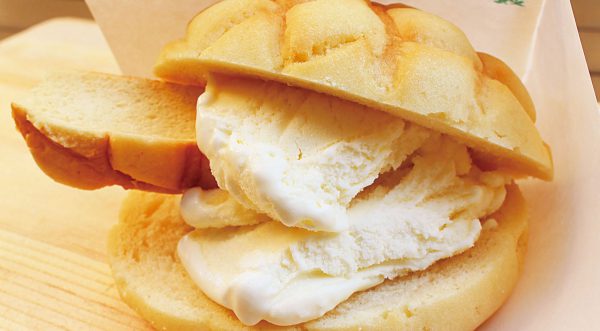 3) Melon Pan Ice Cream
I couldn't get enough melon pan ice cream in Japan. We happened to see someone walking away from a green food truck in front of Dotonbori Kadoza theater the most appetizing ice cream sandwich in hand. This simple, yet mouthwatering, sweet snack is a large scoop of vanilla ice cream sandwiched in the middle of a warm melon bread bun. You have to eat it quickly before it melts all over your hands, but it was a challenge I was willing to accept. I still dream about these ¥400 wonders.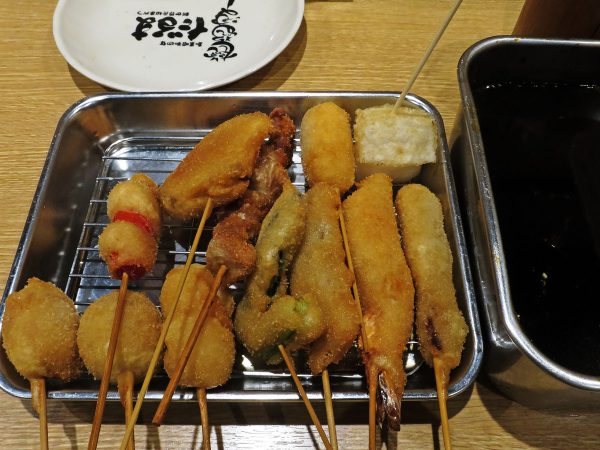 4) Kushikatsu
Kushikastu is another prominent food in Osaka which happens to be the birthplace of this finger licking food. Kushi means 'skewers' and katsu means 'deep-fried meat' so you can imagine this meal refers to deep-fried meat on a stick. In reality, anything can be put on a stick and deep-fried, meats and vegetables alike. Depending on the restaurant, Kushikatsu sticks can vary between ¥30-100 or all you can eat in 1 hour for ¥1,000.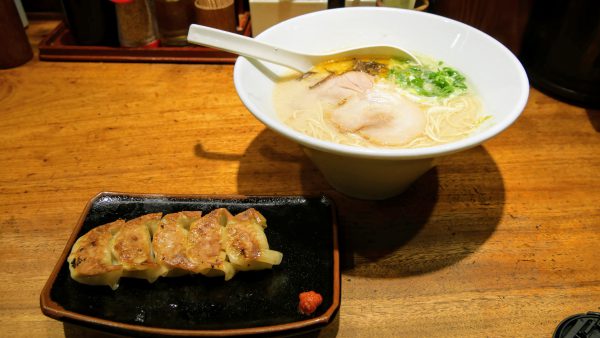 5) Ramen
Most people think of a poor college student's meal when you mention 'ramen'. In Japan, ramen is taken very seriously and is not the cheap instant soup many associate it with. It consists of thin wheat noodles that are served with various broths and toppings. Every region in Japan has it's own variation so make sure to try some ramen from all over the country. You can easily find ramen for ¥600.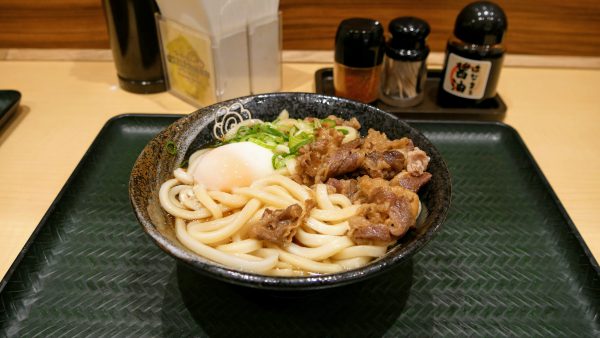 6) Udon
When it comes to noodle based soups, I prefer udon, a thicker and chewier noodle when compared to ramen. Although it can be served with hot or cold broth, it can also be served dry with dipping sauce. With so many varieties of toppings and broth choices, you will never get bored of udon noodles. Prices start at ¥240 at noodle bars.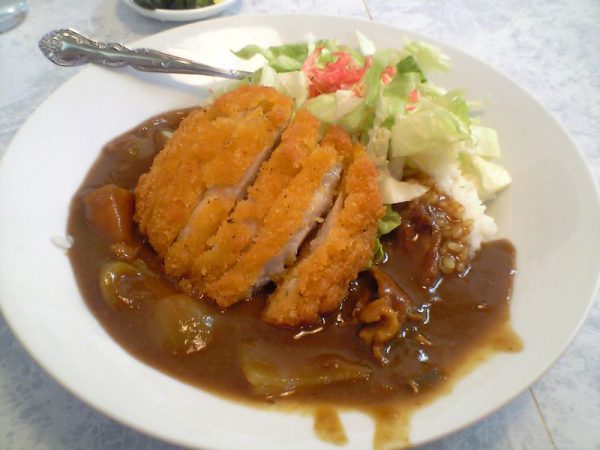 7) Japanese Curry
Japanese curry is the ultimate comfort food in Japan. The thick, gravy-like, mild curry can be served many ways but my favorite is katsu karē, fried pork cutlet with steamed rice. The curry itself is normally made with carrots, onions, and potatoes with the most popular meats being beef, pork, and chicken. Not to mention, the price is quite reasonable at ¥600-800.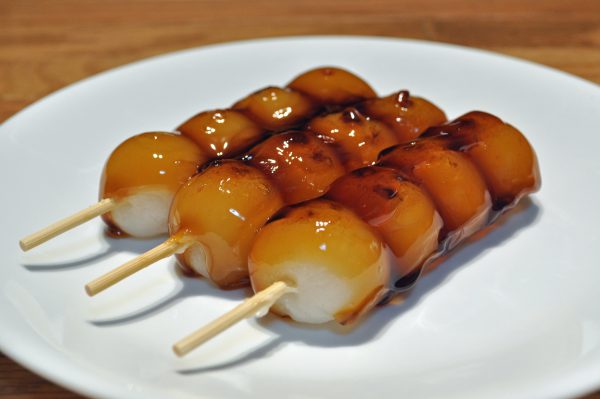 8) Dango
If you like mochi then I'm willing to bet you like dango. Dango is a type of mochi served on skewers that can be grilled and served with different sauces. You can buy these chewy, delicious rice cake balls at any 7-Eleven for about ¥150 for 3 sticks or ¥100 per stick from a food stall.
9) Fluffy Cheesecake
You have to try the fluffiest cheesecake ever from Uncle Rikuro. It will make you feel like you're eating a soft, fluffy, warm cloud – nothing like the American version. It is best fresh out the oven so make sure to get in line to get the freshest batch. An employee rings a bell when a fresh batch is ready to be packaged and sold for ¥675 each. Tip: Jiggle it before you eat it. Trust me.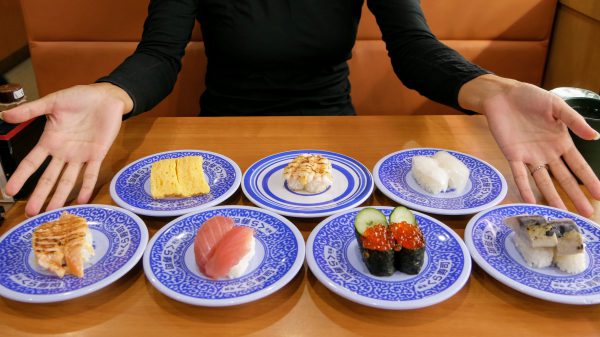 10) Sushi
A no-brainer to try while in Osaka, or Japan in general, is sushi. While consuming raw fish may not be for everyone (*raises hand*), there are still plenty of non-raw sushi options. I don't eat seafood, but when I'm feeling daring I go with tempura shrimp sushi dunked in lots of spicy mayo. The tempura and spicy mayo do a great job at masking the flavor and texture of the shrimp. I went out of my comfort zone to make the most of my time in Japan. I tried shrimp and salmon that were both lightly seared and placed on top of a ball of rice. Spicy mayo is an Americanized sauce so it was nowhere to be found in Osaka. It was the first time I ate fish without gagging! That's how good the food is in this marvelous city!
Pam's Favorite Sushi Shop
My favorite sushi shop as a budget traveler will have to be Kura Sushi where each plate is only ¥100, that's $1! Plates come around nonstop on a conveyor belt. You also have the option to order via a small screen and the plates will come directly to your table on a separate conveyor belt. There were plenty of options for me to eat here as a non-seafood lover. To make things even more fun, every 5 dishes you deposit into a slot goes toward a game on the screen where you can win small prizes. We ate 15 plates the first time and 20 plates the second time. I won the first time I played the game!
Tim's Favorite Sushi Shop
Tim is the sushi and seafood lover amongst us and he thought Kura Sushi was great for the price but his favorite shop would have to be Harukoma Sushi. The sushi comes with a bit of wasabi between the fish and rice. As a result, I had to chug my water as it caught me off guard. The generous fish portions and excellent service make it his top pick.
Want more ideas? Visit Lexx's Japan Food Guide for his Japanese food recommendations.