After 3 months of non-stop traveling and testing out apps in countries where we don't speak the local language, we have gathered enough experience to give you a list of helpful travel apps. All these apps are, of course, free so you can spend your hard earned money on better things, like food.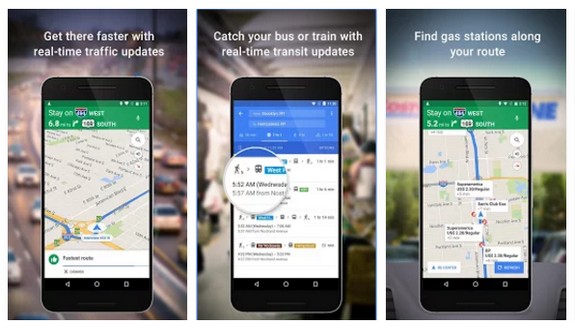 Although this may be the same app that you use back at home, it also comes in handy when you're on the other side of the world. Google Maps allows you to download areas while you are connected to the internet so you can access them while offline. This helps if you don't get data connection oversees or if your connection will be extremely slow. Before you leave for your trip, download the area(s) where you will be visiting. Once you arrive to your location you can use the offline area map just as you would normally, even if you are not connected to the internet at all.
That said, it may not work 100% in the more rural parts of the world and it only gives driving directions, no walking or public transit directions. If you do happen to have data, this app will have all features enabled and you do not need to download the offline map. You can search for directions between two areas and it will give you the total cost of public transportation so you don't have to guess.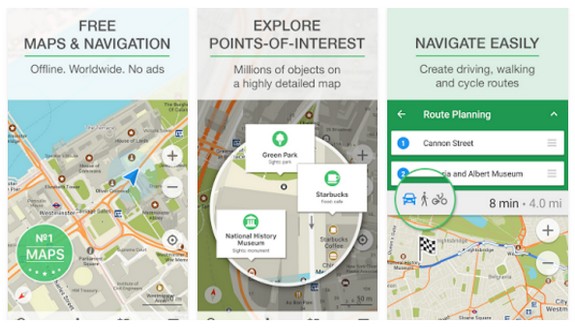 When we first arrived in Poland we had the good fortune of having a local show us around the country and mountain trails. However, there were times when even a paper map was not sufficient to keep us on track, plus there is no harm in having a couple options to fall back on. We used Maps.Me extensively in countries that were not supported on Citymapper (more on this app later). There are three qualities that made Maps.Me a lifesaver: simple user interface, support for every city, and offline access. The user experience is quite good and although the directions feature is not as detailed as Google Maps, it gets the job done with searching by category as well as saving locations. Support for every city was important because we often found ourselves off the beaten path, having the foresight to download locations ahead of time saved us many headaches. To top it off, Maps.Me works perfectly even if you don't have internet access. Keep in mind you will need to have connection to GPS services for navigation to work, but we have never had any issues.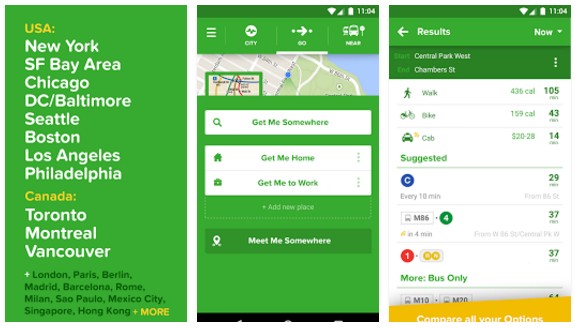 We didn't discover Citymapper until one of our Airbnb hosts in Barcelona reccomended it to us (thanks Muna and Lonis!) There is not a better app that we know of that will get you from point A to point B. Citymapper provides detailed information on travel times of train/bus/ferry etc. and the regular fare cost. The major disadvantage to Citymapper is its small list of supported cities, sure it has the most popular ones but use Maps.Me to fill in the gaps. You can find a list of their supported cites here which is constantly expanding. If you need a well developed, fast, and detailed map, Citymapper is the answer. The app requires a network connection to operate but uses only a marginal amount of data so it can operate on most slower networks.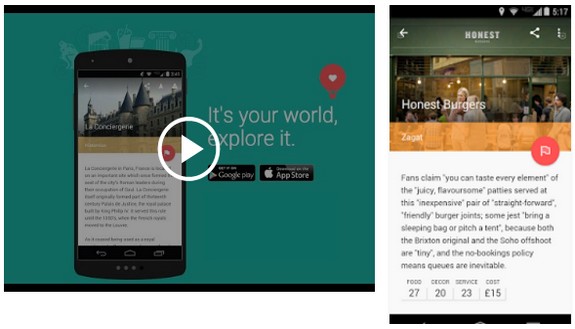 Field Trip is developed by Niantic, the same company that developed Pokémon Go. As with Pokémon Go, Field Trip takes advantage of Niantic's database of location information on landmarks all over the world. To put things simply, Field Trip is like having a tour guide in your pocket. We had a chance to test out Field Trip in Rome, Italy where historic landmarks are around every corner. The app was able to point out monuments, churches, and places of interest along with online articles that are related to the location without opening a separate browser. You will need a data connection for Field Trip to work.
Free, Android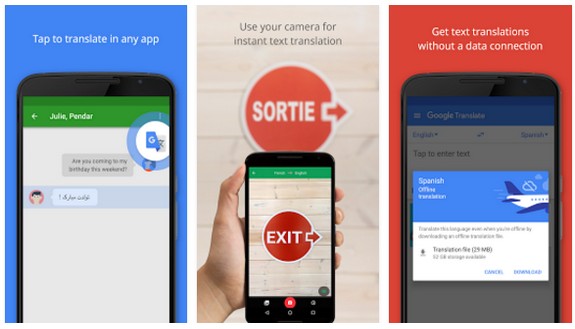 Although it would be nice to understand everyone in every country, that just isn't happening for most people. To help overcome this barrier, I introduce Google Translate. This app can help you translate over 100 languages if you are connected to the internet or over 50 languages if you don't have data and downloaded the offline language pack. Before you leave for your trip, download the language(s) of the country(ies) you are visiting so you can still translate if you happen to lose signal. For most languages you can use your camera to point at a sign or menu for instant text translation right on your screen. It may not be grammatically correct but it will get the idea across and you will be able to know what you are ordering off the menu.
For languages where you don't have the appropriate keyboard (say Chinese), you can finger draw the character for a translation. This also helps when you aren't close enough to use the camera option. A bonus option that I haven't personally used much is the ability to translate spoken words. You can speak into it in your native language and it will translate it into your chosen language. Once again, it may get grammar wrong and not understand euphemisms but it will get the main idea across.
Free, Android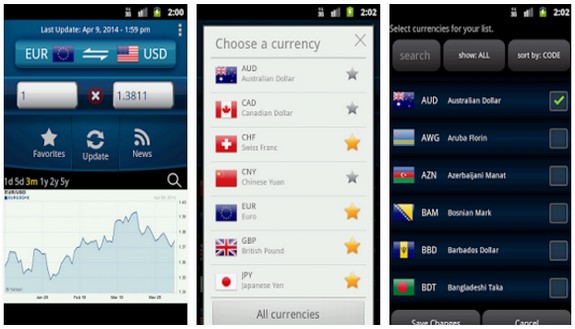 Math might not be your biggest strength, and that's okay because you will have this app to help you figure the cost of that delicious looking ice cream cone into your own currency to see if it's worth the price (hint: ice cream is always worth it). You can select which currencies you will be using during your trip so it appears on an easy drop down without having to filter through 180+ currencies each time. This app uses live exchange rates and has an offline mode for those without data. I use this app daily to get an idea of how much I am spending on things in a way that makes sense to me, my local currency.
Free, Android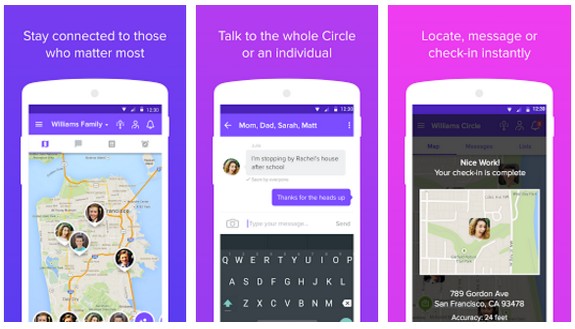 If you have family or friends that are worried about your well being while you are traveling, help give them peace of mind by letting them see where you are. We have three circles, or groups, within the app – one for my family, one for my husband's family, and one for a close friend. All were worried about our 6 month adventure so this helped ease them. Keep in mind that everyone in each circle will be able to see where the others are located as well, that's why you want different circles.
Once you arrive to the other country's airport, check in to the different circles so they know you've arrived safely. Then check it once more when you get to the location where you will be sleeping aka hotel or hostel. As long as you have your phone on you then your circles will be able to see where you are that day if they log in to check up on you. As a bonus, this app works as a tracker for lost or stolen phones.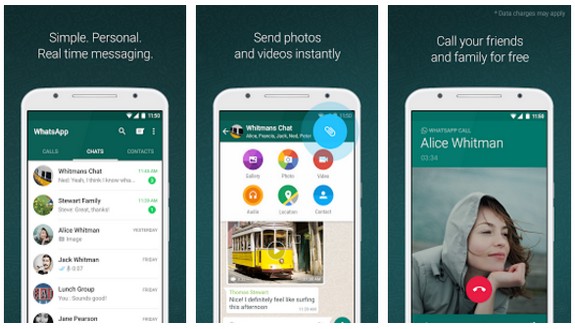 You will quickly learn that whatsapp has become the go-to messaging app around the world. For instance, you will see the logo on business cards so you know that you may use the app to contact them or your airbnb host will tell you to message them via whatsapp. Even if you don't use it now, download it before your trip and set up your account so you are prepared. This app uses internet connection, including wifi, to send messages and retrieve calls via the app. You can also send and receive photos, have group chats, and share you location without any international charges.
Free, Android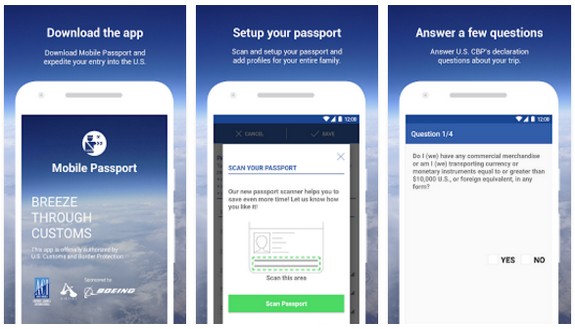 This app is only beneficial to those entering the US at certain airports. It allows travelers to submit their passport control and customs declaration information through the app and skip the line to enter the US. Click the link above to see the airports that are equipped with Mobile Passport Control lines. This app will help speed up the process of getting through immigration which alleviates unnecessary delay and headaches.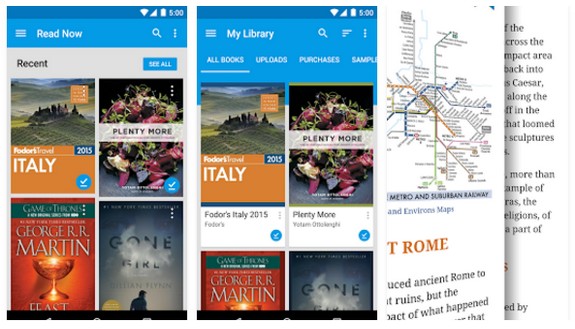 Travel is no doubt a rewarding experience, but travel should not deprive one of reading. Reading is one of the best ways to pass time while on long flights, layovers, or train rides; and one of the best apps for storing your collection of books is Play Books. Depending on your device, our testing found that the app is great for a user who primarily reads on their phone. The app doesn't use up too much battery life and saves reading progress across devices. However, the downfall of Play Books is the slow sync speed when downloading a book for offline reading. Make sure to download your reading list while connected to a solid internet connection and you'll have enough entertainment during that 8 hour layover in Kuala Lumpur.
This post written by both Pam and Tim, can you guess who wrote each section?