What is your name and where are you from?
I'm Dan, my brand online is IAmDanElson. I'm from West Yorkshire in England!
What type of traveler are you? Full time / part-time / business / backpacker etc?
I don't want to stick to I'm an X or X. I've done lots of travel and I LOVE it! I also LOVE online marketing and I want to do what I LOVE in life! I've traveled full-time for over a year in the past 3 or so years and right now I've decided to stick to a base in a city I want to live and work in, and that's Sydney and I'm back in full-time working but enjoying life on my terms!
What are the top 3 places you've visited and why?
This is SO hard to decide! It always depends on what experiences you're looking for at the time! So I will do this in themes. For example, the craziest place I've ever been to city wise has to be Tokyo! The oldest, strangest thing I've seen is the ruins at Puma Punku in Bolivia – come on alien skull head….or the Nasca Lines in Peru!! Some freaky things are right in front of us all we have to do is look! And for a party? It's either Koh Phi Phi in Thailand or Boracay Philliphines, that's just too close to call!
Tell me about your worst travel experience.
Landing in Sao Paulo having no clue where my hostel was or having any wi-fi to work it out. Navigated the underground with directions from a guy who could speak very little English and I ended up in a station in the middle of nowhere, without a clue where I was and super late at night, thus dark. This is Brazil. I'm a backpacker on my own with nice shiny new things because it's week two into my round the world trip…this isn't good! But I managed to grab a taxi with some help from a local bar I saw, and $40 later, and at the other side of the city the taxi driver and I managed to find my hostel! You learn from the bad experiences, I never get into a new city, a city which has a somewhat dodgy reputation in the dark!!
Tell me about your best travel experience.
Too many to tell! Machu Picchu is a highlight. Partying on the beaches of Koh Phi Phi! Exploring countries I never thought I'd see such as Peru, Bolivia, Cambodia…the list goes on!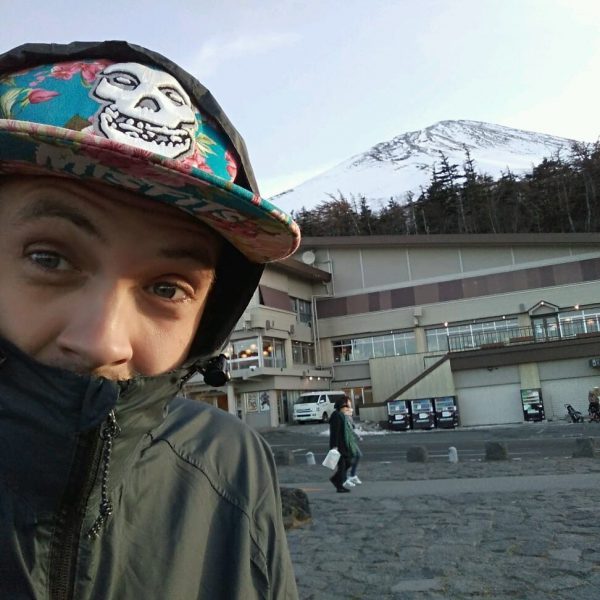 Where are you off to next?
I'm sticking around for while here in Sydney. It's a good spot, cool city, and lots going on. So it's a time to focus on me again, my health (super important), self-improvement and my online business. Get a real feel for what I want to do with my life right now and where I see myself in the short-term. Sydney is a spot I wanted to land in before I hit 30 so I'm two years early. Let's see where this adventure takes me…
What 5 things (apart from the essentials – food/water etc) do you always travel with?
Shorts with zip pockets. Passport. Smart phone (do we call them smart phones anymore?! Haha). Some $$$ hidden away just in case and a hat (I've got very little hair left these days!).
What do you miss most when you're traveling?
I try to focus on the moment, what I'm doing right now. But once I stop and think, then family always comes to mind but I always think my family has their lives and I have mine, you've gotta do what you gotta do in life to be happy and for the moment that's travel, see the world, have amazing adventures and experiences whilst I can!
Favorite form of accommodation and transportation?
When I'm traveling it's hostels for sure. Meet tons of interesting people, from all walks of life and it makes you realize we are all the same sharing this earth, everyone is the same no matter which country you happen to be born in. I love the feel of hostels when traveling! Transportation? I'm a sucker for tech so the bullet train in Tokyo blew me away but I'd take anything as long as I can get there safely!
Best food you've had while traveling?
Again, soooooooo damn hard to decide! I'm sure when I visit Mexico that will top it as I LOVE Mexican food! Japan food was so different yet amazing, so yes, let's go with Japanese food! I love my spicy food!
What is the best advice you've ever been given?
Wasn't give to me personally but I can name any number of quotes from people I respect such as Steve Jobs or Bruce Lee or Arnold Schwarzenegger.Most are saying the same thing in different ways, do what makes you happy and don't stop, keep moving forwards and work your arse off – it's all about the journey.
Why did you start traveling? What made you fall in love with it?
I was lucky enough to be able to travel from a young age with my family and parents and travel always got me excited. 18 I went to see the pyramids and I was blown away. Same trip I was Petra, and again blown away. I love exploring and experiencing different things, I love life and want to experience everything before my little time on this planet is over – and we never know when that might be! So little time, so much to see/do/explore!!
Do you know of any travel hacks that many people might not know about?
Shorts with zip pockets. This is the biggest thing I can recommend if you're hitting up hot countries. I used them every day when I last traveled for 6 months throughout S.E.Asia! Never worry about your wallet or money or phone doing a runner again…I mean falling out of your pocket and forgetting it of course! I've recently written a PDF that's free on my website that features all 57 traveling hacks I've learned along the way, go check it out!
What is your favorite photo from your travels?
Soooooooooo difficult to choose! So, so soooooooooooooo many. I do love cheeky Mount Fuji in the background of the image attached mind! Head over to my website where I tend to use images from my travels that I LOVE!
In a few lines tell everyone about your website.
I'm on a mission to inspire more people to travel! I really believe travel should be for everyone and it's something we should all experience due to the fact that it changes the reality we have been set into by society. Your reality really does change once you see that life can be another way, and of course, you appreciate things all that much more too. My website also provides you with my experiences of saving to travel the world, and not just that but how to make money whilst you do too!
Connect with Dan
Website: iamdanelson.com
Twitter: twitter.com/JetElson
Facebook: facebook.com/iamdanelson
Instagram: instagram.com/iamdanelson